A Season of Gratitude
You certainly do not have to strain your brain over the theme of 'Giving' this holiday season. From Black Friday to Cyber Monday to Tuesday Day of Giving, it seems that we are bombarded with ads and peer pressure to buy and buy and buy so that we can give and give and give. Sometime, however, we need to rise above all this buying and giving and take stock of what we are grateful for.
At Crossroads our gratitude this year is reflected in all we have accomplished through the generosity and help from all our friends.
We made the Collins Learning Center structurally sound again with some major renovations to the south side of the building.
We transformed a dusty and dingy basement storage area into a very accommodating, bright and purposeful instructional meeting space.
We continued to develop the trail system at Ida Bay, opening new outdoor hiking experiences for everyone who ever wondered what was inside that chain link fence for all those years. We also managed to remove most of the fence thanks to one of our neighbors, Dennis Hayes.
Discovering what was behind that fence proved to be a major archeological find that involved hundreds of enthusiastic students from schools far and near.
We also managed to hire a Crossroads neighbor, Rich Propsom, as our much needed Property and Facilities Manager. His enthusiasm and energy has been reflected in many projects at Ida Bay and future projects at the Cove that will make the property more accessible for a wide range of outdoor activities.
The Maki Arboretum Project is underway and promises to provide ample learning opportunities for students young and old to discover both woody and herbaceous plants of Door County and Wisconsin.
With solar panels added and a new home for The Friends Ski-For-Free Program this winter (Think Snow), our maintenance building is fulfilling its anticipated need.
Add in all the other accomplishments of volunteer groups, Boy Scout projects and willing area students and we have a great deal of good to be grateful for this year.
So yes, giving is a big part of the Season, but being grateful and thankful for what that giving accomplishes is truly the reason for the Season.
Expand article
Have a Memorable Holiday.
Dick Weidman,
President, Board of Directors at Crossroads
---
Bigger & Much Better
In 1994… back when Crossroads was a school forest and years before the Collins Learning Center was built … Ivan Bissen donated our parking lot. He claimed that he "did it for the children." Children did benefit. As soon as we had a parking lot, school buses began delivering students to our preserve.
Now, some 20 years later, the parking lot has had several topcoats plus countless repairs and patches. And yellow buses continue to drop off children. This year, by the end of November, 2,075 Door County students had participated in field trips to Crossroads.
While our dedication to children has not waivered, we have expanded our programs to adult education and also offer a number of workshops and special events for learners of all ages. Year to date, 4,765 adults have attended classes at the Collins Learning Center and several thousand more have attended special events such as Door County Reads and the Sustainable Living Fair.
Not only is our original parking lot in disrepair (due in part to water table issues) but it simply is not large enough to accommodate our adult learners. Two or three time each week, we run out of parking spaces.
In 2016, we hope to expand our parking lot … and to expand it in an environmentally responsible way. At this time, we are exploring options for engineering a parking lot that will protect our water and wildlife resources while meeting the needs of our many users.
We understand this will cost a great deal more than a conventional treatment, but Crossroads is committed to being a role model of environmental stewardship.
To participate, fill out the donor form on page 7 and return in the reply envelope or donate online at: www.crossroadsatbigcreek.org
Expand article
---
Ski and Snowshoe for Free
Sponsored by Friends of Crossroads and Door County Silent Sports Alliance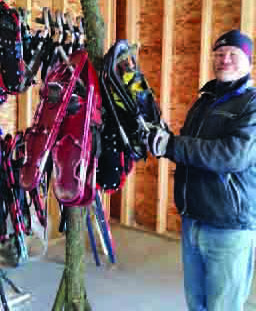 Crossroads at Big Creek lends, free of charge, an array of ski and snowshoe equipment, sizes to fit age 3 through large adult. When trail conditions permit, go to the Crossroads Maintenance Building where our volunteers will fit you with equipment, share a few pointers and a trail map and send you out on groomed (classical and skate) ski or hiking trails. When you have finished, return your equipment and enjoy a cup of hot chocolate.
THURSDAYS, SATURDAYS & SUNDAYS: 11:00 – 3:30 (when snow is adequate)
---
Autumn Giving
Gifts made from September 1 – November 30
$50,000 – $99,999
The Estate of Wayne & Patricia Eastman
$25,000 – $49,999
Anonymous
$10,000 – $24,999
Don and Coggin Heeringa
Estate of Ray Stonecipher
$2,500 to $4,999
Anonymous
$1,000 to $2,499
Door County Silent Sports Alliance
Joy Maccaux
Marian Hislop
Charitable Lead Trust
Ministry Door County
Midwest Archaeological Consultants
John and Nancy Munch
Nancy Snyder
$500 to $999
Lee and Susan Basten
Breakfast Rotary Club
Cellcom
John and LeeAnn Harling
Ann and David Harsh
Diane Jome
John and Karen Kierstyn
Karl and Lucy Klug
Ed and Cindy Koutnik
Master Gardeners of Door County
Dave and Jackie Udell
$250 to $499
David and Janet Daniel
Leroy and Marilyn Liebe
Margaret Madel
Anonymous
$100 to $249
Carol Bockhop
James and Barbara Bunning
John and Cathy Campbell
Karen Cowen
Dorene Dempster and
Mark Herrell
John Fulkerson
William and Cleid Galligan
Howard H. Hintze
De Anne Hoffmann
Nancy Mattke
Al Miller and Vicki Dirst
Eric and Dee Paulsen
Tony Polonus
Kathy Rowe
William and Mary Jo Schaars
Nancy Tong
Rob and Cathy Vuksanovic
Norm and Mabel Watkins
Hal and Shirley Winbourough
Wild Ones of Door County
$50 – $99
Peter and Carol Clikeman
George and Margaret Collier
Jane Gurthrie
Doug and Barbara Henderson
Louis and Rosemary Janda
Paul and Kanai King
Jerry and Nan Krause
Andrew and Clare Lubar
Bill and Betty Parsons
Raymond and Lee Vlaming
$1 – 49
Heidi Bader
Jeanne Barnard
John and Carol Bartoszek
Pat Blizel
Jane and Randy Bumgardner
Rose Coisman
Elaine Cregan
Catherine Eckers
Travis Grooters
Marjorie Grutzmacher
Nicole Herbst
Deborah Jeanquart
Lucille Kirkegaard
Tammy Kroll
Thomas and Suzanne Kuffel
Jim and Valerie Maki
Harry and Judy Porter
Matt Propsom
Ann Quale
Belinda Richard
John Rosenthal
Rod and Marian Schlise
Jeanne Schopf
Edward Schriner-Schmitt
George and Susan Sergeant
Scott Steebs
James Tellstrom
Randy Watermolen
Jolene Wilson
Clifford Wind
Carmen Youra
Memorials of…
Ralph Berg
Valerie and Jim Maki
Rod Bohn
Harry and Judy Porter
Don and Coggin Heeringa
Betty Carstens
Eric and Dee Paulsen
Allen Everson
George and Susan Sergeant
Jill Harding
Jane Guethrie
Coggin Heeringa
R.J. Ullman
Eric and Dee Paulsen
Mary Wanke
Coggin Heeringa
Karen and Diane Jome
Eric and Dee Paulsen
Special Thanks
Gerry Banks
Patty Clark
Door County Advocate
Door County Daily News.com
Door County Historical Society
Door County Silent Sports Alliance
Door Peninsula Astronomical Society
Fran and Arliss Everson
Friends of Crossroads
Dennis Hayes
Master Gardeners of Door County
Midwest Archaeological Consultants
Peninsula Pulse
Raibrook Foundation
Sturgeon Bay Utilities
WDOR
Business Members
Ask about this giving opportunity
$500 Level
C & S Manufacturing
Midwest Archaeological Consultants
Ross Estate Planning
Thrivent Financial – Jaqueline Szczepanski
$250 Level
Bayside Home Medical
Eagle Mechanical
Pinkert Law Firm LLC
Viking Electric Supply
$100 Level
Bob the Painter – Bob Ryan
Dorsal, Inc.
Going Garbage
Gordon's West Side Electric
Jeanquart Associates
LfpDesign! LLC
Peninsula Veterinary Clinic
Reliable Auto Sales
Roen Salvage
Wulf Brothers / HiTec Fabrications
Expand article
---
A Dock in the Bay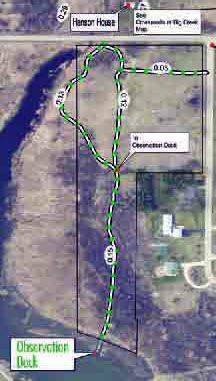 It was just a year ago that, with financial help from many of you, Crossroads acquired the 9-acre Big Creek Cove property which included a dock. Then last winter, the rising water in the bay of Sturgeon Bay caused the deck of that dock to float away.
We hope to replace it with a 100' dock with an 8'x 10' platform.
The dock/observation deck would serve as a kayak or canoe landing, observation deck, work surface for lessons and research, and a hike destination, increasing both the educational and recreational potential for Crossroads.
The design, which was selected at the November meeting of the Crossroads Board of Directors, is a modular floating dock. Materials and installation will cost about $20,000. It is the Crossroads policy that for each major project, we now raise an additional 20% to fund a reserve account for on-going maintenance. Consequently, our fundraising goal for this project is $24,000. A gift of any size would help us reach our goal.
---
2016 Goals
Replace/expand our current Parking Lot in an environmentally responsible way
Install a dock/landing/observation deck for Big Creek Cove
Create a native plant garden for birds & butterflies (while solving some drainage issues) in the area between the rock garden and driveway
Begin planting in the Maki Arboretum
Paint Collins Learning Center exterior
Continue archaeological investigations
Conduct a feasibility study for an Outdoor Center for Crossroads
A wildlife corridor is defined as: "a strip of habitat connecting wildlife populations separated by human activities or structures. Corridors moderate effects of habitat fragmentation, wherein urbanization can split up habitat areas, causing animals to lose the ability to move between regions in order to use all of the resources they need to survive."
---
Download a pdf of our Winter 2015 newsletter