Message from the President
A Bridge to the Future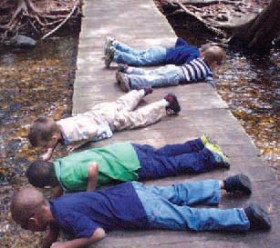 Building a bridge is no easy task. Selecting the site where the bridge is to cross is always the first step. Then the planning and design process starts in full earnest. Foundations are strategically built with the roadway carefully overlaid till it connects with the other side. Once built, crossing over to the other side becomes a very simple process.
Well, as you may guess, Crossroads has become very proficient at building bridges, not just to cross Big Creek that flows through our property, but from one program year to the next. As 2013 comes to an end, we look forward with enthusiasm to crossing the bridge to these projects for 2014.
In 2014 we will begin the development of Education Space in the lower level of the Collins Learning Center. Thank you Friends of Crossroads for all your help in preparing this new resource.
We are also working on the layout and planting of an Arboretum as outlined in the Crossroads Master Plan. Thank you to Greg and Nick Meissner for all the time spent on this project.
Special thanks to Scott Matheson, Collin Mirkes, and Adam Monfils of Boy Scout Troops 1022 and 1140 for planning and the completion of walking trails, an observation deck, and forest footpath. We plan to continue to expand our trail system in 2014.
As always, because of the dedication and involvement by all of you, our most valued assets, we are building a bridge into an exciting New Year for Crossroads.
Dick Weidman,
President , Crossroads Board of Directors
Expand article
---
Room for Improvement
Schematic designs are the bridge between ideas and architectural plans. We have engaged Marc Isaksen Design, LLC to create a schematic design for our proposed Lower Level Education Space. For the past few months, we have been collecting ideas… listening to volunteers, teachers, researchers, representatives from other environmental groups, youth group leaders, caterers, artists, gardeners, kids. And we've arrived a at set of ideas.
We hope to have a meeting room/classroom which is very flexible to accommodate various groups. A glass door (to replace the garage door) will provide daylight, and also enable us to open the room to the outdoors for many activities. The room will have a kitchenette with serving counter. We hope to install a Smart Board, white boards, and recreational equipment storage. The former garage will have equipment storage, a room dedicated to research projects with work stations, and a holding area for garbage and deliveries.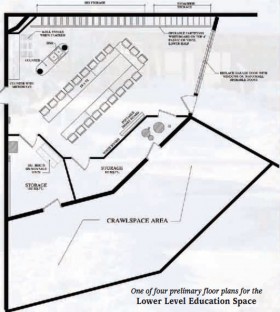 We now have a sketch and we will start listening again…to carpenters, suppliers, plumbers, heating and air conditioning contractors, and so forth, to see if the ideas will work, and if so, how much money we will have to raise to turn ideas into reality. And we will continue listening to all ideas.
Our timetable? We will do the work incrementally as funds become available. We invite you to be a part of this project by making a special designated gift to the Lower Level Education Space.
Expand article
---
The Holidays are a Bridge Between the Old and the New Year
Accomplishments in 2013
Moved maintenance equipment and supplies from Lower Level of Collins Learning Center to the new Maintenance Building.
Thank you to Friends of Crossroads
In conjunction with Sustainability Fair, hosted Safe Lawn Programs featuring Paul Tukey
Thank you to Door Property Owners
Planted 300 trees during Earth Day Celebration
Thank you to Sunrise School Staff and Students
Held a Monarch Weekend with guest speaker Lincoln Brower
Thank you to Green Fund of Door County Community Foundation
Created a new hiking trail
Thank you to Ministry Door County, Scott Matheson and Boy Scout Troop 1022
Built an observation deck by Big Creek
Thank you to Collins Mirkes and Troop 1022
Established a forest footpath & removed invasives
Thank you to Adam Monfils and Boy Scout Troop 1140
Conducted a Phase I archgeaological survey
Thank you to Raibrook Foundation, Paul and Fran Burton and Randy Dickson of Midwest Archaeological Consultants
Viewed the moon on Astronomy Day 2013
Thank you to Door Peninsula Astronomical Society
Began planning lower level education space
Thank you to Peter G Horton Charitable Remainder Trust and Meissner Family Fund

Goals for 2014
Begin work on Lower Level Learning Space
Replace the 13 year old snowmobile (used for grooming Walking and Hiking Trails)
Conduct Phase I and begin Phase II of Archaeological Survey
Enlarge Service Area around the Maintenance Building
Repair exterior walls (which have succumbed to the sun) on the south side of the Collins Learning Center
Expand the Hiking Trail System
Enhance Collins Learning Center Landscaping
---
Thank You Donors!
Gifts from July 1 – November 16, 2013 (Year-end Gifts will be listed in our spring issue)
$5,000 – 9,999
Peter G. Horton
Charitable Remainder Trust
Portland Trust II
Joan and Brian Wake
$2,500 to $4,999
$1,000 to 2,499
Door County Community Foundation
Tom and Peggy Hauser
Zion United Methodist Church
$500 to 999
Dan and Bonnie Balch
Friends of Crossroads
Ann and David Harsh
John and Karen Kierstyn
Karl and Lucy Klug
David and Kelly Kudlik
Ministry Door County
John and Nancy Munch
Ivy Nelson
Noon Rotary Club of Sturgeon Bay
Norm and Mabel Watkins
$250 to 499
David and Janet Daniel
Robert and Donna Hays
Edward and Cindy Koutnik
Leroy and Marilyn Liebe
Tom and Jill Herlache
Wulf Brothers, Inc./Hi Tec Fabrication
$100 to 249
James and Barbara Bunning
John and Katherine Campbell
George and Margaret Collier
Helen Collins
David and Ann Conger
Door County Fair Association
Door Property Oweners
Breakfast Rotary Club
John and Edith Fulkerson
Mike and Connie Glowacki
Susan Gilson
Kenneth and Jean Hill
De Anne Hoffmann
Hope Fellowship
Jeanquart Associates
Dave Jordal and Linda Hinkston
Paul and Kanani King
Susan Gigot-Klein and Charles Klein
Paul Lambeck
Tom and Claire Minahan
Camila Nielsen
Todd and Shelley Parrish
Peninsula Planters Garden Club
Gregory Ristow
Carl and Ruth Scholz
Richard and Dorothy Shappell
Gertrude Stillman
CT and Susan Stone
Tom and Barbara Tierney
Terry Ullman/Door County Candy
Ray and Lee Vlaming
Rob and Cathy Vuksanovic
Steve and Joan Wilkie
Wild Ones of Door County
Duane and Leslie Youngsteadt
John and Beth Yount
$50 – 99
Walter and Marlene Allen
Herb Klein and Cal Bonnivier
Scott and Lynn Brunswick
Warren and Nancy Burlend
Pete and Carol Clikeman
Ralph and Maeta Chase
Karen and James Erickson
Ralph Erickson
Anonymous
Tammy Kroll
Ellen Looker
Jim and Valerie Maki
Nancy Mattke
Patricia Malkemus
Charles and Susan Nelson
Harry Porter
Lee Somerville
Geraldine Szuberla
Biz and Sharon Virlee
$1 – 49
Sally and Rod Alexander
Heidi Bader
Jeanne Barnard
John and Carol Bartoszek
Pat Blizel
Randy and Jane Bumgardener
Barb Chisholm
Cheryl Choronzy
Rose Coisman
Cathy Eckers
Mike and Sue Eliason
Travis Grooters
Jane Guthrie
Nicole Herbst
Carol Hobson
Ed and Margo Ireland
Deborah Jeanquart
Joann Johnston
Darrel and Eline LaLuzerne
Gretchen Montee
Jan Olson
Rachel Pratt
Matthew Propsom
Betty Ostram
Anna Quale
Robert and Helen Reed
Belinda Richard
John Rosenthal
Robert and Sue Ryan
Gordon Saron
Marguerite and Dennis Skahan
Jeanne Schopf
Ed Schriner-Schmitt
Scott Steebs
Randy Watermolen
Eugene and Wilma Waterstreet
Mary Wanke
Jolene Wilson
Cliff Wind
Carmen Youra
In Memory of
Ron Casadont
Jim and Valerie Maki
Mary Wanke
Russell & Mary Hemmington
Beth and John Yount
Omer Mickelson
Janet Mickelson
Leroy & Claire Olsen
Charles and Susan Nelson
In Honor of
Harvey and Rita Stahl
Darrel and Elaine La Luzerne
Special Thanks
Gerry Banks
C & S Manufacturing
Door County Advocate
Door County Daily News.com
Door Peninsula Astronomical Society
Friends of Crossroads
Steve and Theresa Selvick/
Mastercare Carpet Cleaning
Little Hoppers
Ministry Door County Medical Center
Peninsula Pulse
Len Villano
WDOR
---
A Bridge to the Past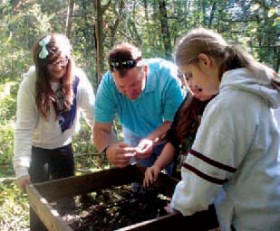 Our Archaeological Survey has been a bridge to our past. Professionals from Midwest Archaeological Consultants have not only located two sites (so far) at Crossroads, but also have done a number of outreach programs for elementary students and the general public and have given several hundred middle school students actual experience in shovel testing.
So far, we have found many flakes of chert, which was a locally available rock. The flakes are the waste material from making stone tools.
Until growing season, the Crossroads Greenhouse will be transformed into the Archaeology Workroom. We hope to have displays and hold outreach programs, and also conduct laboratory analysis including flotation of light and heavy soil fractions using water and different screen gradients to capture seeds, botanical remains, small mammal bones, charcoal and other cultural material.
The next stage of scientific inquiry is called a Phase II archaeological evaluation. Next spring we will strategically place 1 x 2 meter or 2 x 2 meter units on the sites in the areas of highest artifact concentrations and systematically excavate the units 1cm at a time. We will record data concerning soil types, soil textures, changes in hue and chroma of the soils, stratigraphic sequences, cultural features and artifacts.
We hope to involve learners of all ages in finding evidence of the first inhabitance of Crossroads, and that will assist us in our interpretation of past lifeways, subsistence, habitation and more.
The project is funded by:
Paul & Fran Burton, Raibrook Foundation, MMG Foundation, Anonymous & Midwest Archaeological Consultants
Expand article
---
Below the Surface
Educational Theme for 2014
At its October meeting, the Crossroads Board of Directors selected "Below the Surface" as the educational focus. Our education efforts will include but not be limited to:
Water Quality
Archaeology (continue Phase I and start Phase II of our Archaeology Survey)
Great Lakes Ecosystems
Geology (focusing on the Escarpment, Karst and fossils)
Wildlife (focusing on animals that live under the surface)
Soils
Construction of our new Education Space (which just happens to be below the surface)
---