Message from the President
Forward…
By definition the word "forward" denotes a movement or progression to what lies ahead. It also is the Wisconsin State Motto, which is now being debated among its citizens.
But at Crossroads we prefer to define forward as our dedication to constantly striving to provide a positive learning experience to all who enter our facilities. Certainly during the challenging economic environment in which we find ourselves at this time, it would be easy to rest on our past laurels, but life is too dynamic to become mired in the present without looking toward the future. 
This is why we are progressively seeking out new projects to enhance our facilities and subject matter to explore in our evolving educational programs.
As the upcoming Christmas Season and fast approaching New Year find all of us shopping for that special gift or making a New Year's resolution that we hope will make 2012 a better year than the one we are leaving behind, I would ask you to include Crossroads in your gift giving.
As we move forward on projects like our Council Ring/Hidden Classroom and Maintenance Building, your support through volunteer hours or financial donations will enable us to maintain the excitement and enthusiasm of "The Crossroads Experience."
Enjoy this special time of the year with family and loved ones and join all of us at Crossroads as we look Forward to another year of learning.
Dick Weidman,
President of Crossroads
Board of Directors
Expand article
---
Projects for 2012
The utility room in the basement of the Collins Learning Center seemed cavernous a decade ago. But ten years ago, everything was new and under warranty. At that time, the Door County Historical Society had moved only two buildings to The Historical Village, the Leif Everson Observatory was the only building at our Astronomy Campus, and the preserve had a single trail through its 85 acres. 
We have grown. Now eleven buildings, six miles of groomed trails, and more than 127 acres of land all are maintained from this room, which serves as a shop, a garage, and a storage area for power and garden tools, paints and herbicides. It is also used to house our ski/snowshoe program and as a wheelchair entrance.
Children and power tools are not a good mix. And we'd love to eliminate the noise, exhaust and dust. The snowmobile, snowblower, golf cart and lawn tractor take up most of the floor space, so the remainder of our maintenance equipment is stored off-site in neighbors' garages or else, is just sitting outside in the weeds.
To increase safety, to have room to store and actually use our maintenance equipment, and to re-purpose the basement room for education and recreational programs, the Board of Directors has taken the initiative to build a maintenance building east of the solar array just off Michigan Street.
The building will be two stories, 40 x 60 feet. One bay will have ample storage for vehicles, equipment, chemicals, and tools. A smaller heated bay will house the shop. The attic room will provide much-needed storage. A buff-colored board and batten exterior and dogwood-red metal roof will match the learning center.
We are determined to build a utilitarian, yet ecological, building to meet our growing needs. Our needs are becoming urgent. We need this building in order to maintain our trails, repair our buildings, and manage our land. We estimate that the building will cost between $55,000 and $65,000. Please consider a year-end gift to help us make this building a reality.
Expand article
---
Council Ring and Outdoor Classrooms
Crossroads is also raising money to create a Council Ring and Hidden Classroom overlooking Big Creek. A planning grant from the Door County Community Foundation underwrote the design for this project, and a grant from the Raibrook Foundation provided the seed money. We are thrilled to announce an anonymous couple is willing to match donations up to $5,000. 
The area will be used by school groups, youth groups and for Crossroads programs like campfire talks, sing alongs, and picnics. We anticipate it will become a destination for families as well. The area will be fully accessible and will require little, if any, maintenance for decades to come.
We have an ideal setting. A small ridge forms a crescent-shaped clearing surrounded by spire-like spruce. This area had been overgrown by invasive species. Last winter, volunteers began clearing the site, only to find that the opening is strewn with rock piles. Presumably, the farmers and orchardists used this area as a rock dump after clearing the rest of the entire property.
Between this opening and Big Creek, a natural room, created by a dense grove of cedars, has been called our "Hidden Classroom" for years. Children adore this magical place where glacial erratics make natural seating for reading, journaling and picnics.
The cedars form a blind which allows wildlife observation of the adjacent wetlands. Last winter, volunteers cleared low hanging branches for eye safety, but uneven terrain excludes some learners.
To make the site safe for all and accessible for those with mobility issues, shrubs and weeds, particularly poison ivy, must be removed and the site must be rough-graded. Dolomite seats and fire ring boulders will be installed. Gravel will be added to paths and around the fire ring. Perimeter plantings of wildflowers will prevent the return of invasives. An aluminum cover for the fire pit will serve as a teaching platform and prevent unauthorized fires.
A gift to this project will bring us closer to making memories – memories of campfires and marshmallows, nature presentations, songs and storytelling.
You can help make these memories by making a designated donation – and our friends will match your gift.
Expand article
---
Science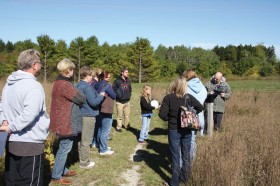 "Celebrating Solar Systems" was the theme of Astronomy Day 2011, and it was a celebration indeed, as the Door Peninsula Astronomical Society initiated their updated Planet Walk between the Astronomy Campus and the Collins Learning Center. A grant from the Wisconsin Space Grant Consortium enabled Crossroads to offer teacher training that weekend. Participating teachers then guided families through hands-on activities. 
Members of the astronomical society will hold Viewing Nights on the Saturday nearest the new moon each month. The community is invited to experience these exciting events.
Night Sky Viewing at The Leif Everson Observatory
January 21
February 18
March 24
April 21
May 19
June 5 – Transit of Venus
(dates subject to change)
Expand article
---
History
Join us on Tuesday, December 27, at 1:00 when the Door County Historical Society invites the community to return to a simpler time with in a "Door County Pioneer Christmas." Bring the whole family to this free holiday event. 
Antique Appraisal Event Coming Back By Popular Demand
On November 19, the Historical Society held its first Antique Appraisal Event. It was so successful, they've scheduled another for April 1. Antique writer Mark Moran (yes, the one you've seen on the PBS television program "Antiques Road Show") will be back. Appraisals will be $15, while a ticket to watch the show is $3. Proceeds will be used to paint the peak of the Vignes School.
Expand article
---