Message from the President
Make a Difference
As we live out our lives in our immediate surroundings, we all have the opportunity to contribute a portion of our time and resources to enhance the lives of people in our own community. Whether it is helping people get through difficult and trying times, contributing to worthwhile efforts of other caring people or providing life-long learning experiences for young and old alike, we all have the opportunity to make a difference in the lives of people that we come to call friends.
Of all the friends that have participated in and contributed to Crossroads, John Collins knew how to make a difference in the lives of people that called him their friend. Contributing his time and resources to make projects happen and always maintaining a positive attitude will be the characteristics for which John will always be remembered. As we search for a memorial to recognize John's accomplishments, we need only to look within ourselves to continue in that same dedication to make a difference. 
This year, we lost two other friends who made an enormous difference at Crossroads. Marian Hislop and Elizabeth Guenzel were best known in Door County for their support of the fine arts, but both of these generous women were quietly and generously helping Crossroads for the past decade.
Spring is always a high energy season where we get to release and channel some of our stored-up reserves on projects around home and in our community. At Crossroads, we are now harnessing more of the energy that we receive from that fiery ball in the sky we call the Sun. Our Maintenance Building is progressing as evidenced by the concrete slab just east of the John and Helen Collins Learning Center, and our Council Ring Outdoor Classroom will also come to life soon with initial excavation and layout work. As always there will be programs to attend and many volunteer opportunities for everyone this spring at Crossroads.
Step outside, take a deep breath and commit a few hours of your day to make a difference.
Dick Weidman,
President of Crossroads
Board of Directors
Expand article
---
Science and the Environment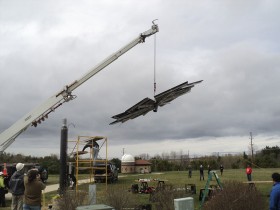 On Earth Day, some people pick up litter or maybe, plant a tree. We at Crossroads added our second solar collector. During Earth Week, Lake Michigan Wind and Sun, Ltd. combined forces with the students from the NWTC Solar Technology program and Sturgeon Bay Utilities to install a 21 foot diameter collector between the Leif Everson Observatory and Stonecipher Astronomy Center.
This newest member of the Solar FlairTM family was designed by John Hippensteel with the Crossroads Astronomy Campus in mind. The artistic installation is modeled after the Pinwheel Galaxy, otherwise known to astronomers as M101. The Pinwheel Galaxy is a spiral galaxy, essentially the same shape we believe our own Milky Way Galaxy to be. 
Last September, the Pinwheel Galaxy was in the news when one of its stars went supernova. Actually, this star self-destructed some 21 million years ago, but it took all of that time for its bright light to reach our Earth. In contrast, it will take 8 minutes and 20 seconds for photons of light to travel from the Sun to the solar panels currently powering Crossroads.
This was a true community project with all material and labor being donated by local residents, companies and organizations. Learners of all ages  visit The Astronomy Campus at Crossroads to learn about the wonders of our universe. How appropriate then, that daytime programs will be powered not with fossil fuels, but rather by the clean, renewable energy of our nearest star.
Expand article
Sundial in the StarGarden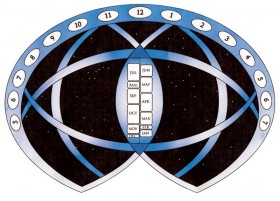 For years, the Door Peninsula Astronomical Society (DPAS) dreamed of creating an analemmatic sundial (a sundial on which a human casts the shadow.) Several months ago a member of the Leadership Door County Class of 2012 called Crossroads. They were looking for a project, something that would have lasting benefits for the community. And by the way, several of them were artists! It seemed a perfect match for the sundial project…a match made in heaven (or at least space.) The Leadership Door County class and DPAS members will take the design by Jim DuFrane, with mathematical assistance from Ray Stonecipher, to create a beautiful 249-square-foot concrete, aluminum and glass installation. Both groups are grateful to the Raibrook Foundation for help with this project.
---
Green Recreation
Running Green for Crossroads JUNE 23, 2012
Running Green for Crossroads, an earth friendly event, is scheduled for June 23. It features a 2k, 5k, and 10k Run/Walk and promotes a silent sport with a minimal footprint. The proceeds will help support Crossroads.
For more details or to register, visit www.CrossroadsRun.com or drop by the Collins Learning Center to pick up an application. We are especially grateful to Ministry Door County, our major sponsor. In addition to helping with our run, Ministry has underwritten trail maintenance for the past seven years.
---
History
There may be old things at Door County Historical Society's Historical Village, but in summer, it's never the same old thing. Each Sunday, between 1:30 and 3:30, DCHS stages a special event…free and open to the public and fun for the whole family. The Historical Village is open daily 1:30 – 3:30 during the summer and free family programs are offered Monday – Thursday.
June 17: Community Band Concert
June 24: "The History of Agriculture in Door County" featuring George Evenson; Blacksmith Demonstrations
July 1: "The Civil War" featuring Joe Knaapen
July 8: "The Vikings and Their Westward Wanderings" featuring Paul Burton
July 15: "Herbs in Wisconsin" featuring Jane Cole
July 22: "A Gardener's Walk Through the Village featuring Lee Sommerville; Blacksmith Demonstrations
July 29: "Belgian Agriculture in Door County" featuring Bill Laatsch
August 5: "The History of Railroads in Door County"featuring Paul Spanbauer
August 12: "Meet the Warrens" featuring Gerald and Nan Krause
August 19: "The History of the Washington Island Ferry" featuring Dick Purinton
August 26: "Historic Women's Fashions" featuring Ruth Scholz; Blacksmith Demonstrations
---
Closing the Ring
On December 5 we announced the Council Ring/Outdoor Classroom project, and thanks to grants from the Raibrook Foundation and Door County Community Foundation combined with an amazing outpouring from the community, we are more than half way to our goal.
Hearing this good news, and eager to use the Council Ring right away, a pack of Cub Scouts suggested that we make a semi-circle instead of a full ring. Alas, an installation of this scope must be done in a certain sequence with each phase completed before the next is started. 
But we could achieve our goal by fall because a local couple has offered to match donations up to $5000. They have already made good on half of their pledge, so we are hoping to raise at least $2500 more from individual donors to realize the remainder of their gift.
This spring we invite our supporters to make their 2012 gift to Crossroads and then, if able, to make an extra gift for the Council Ring. The Cub Scouts and all other youth groups in Door County would love to sit in a circle…a completed circle… around a campfire this fall.
Expand article
---
Maintenance Building Underway
Fundraising progress on the Maintenance Building has gone remarkably well, enabling us to pour the foundation in March. In reality, we have enough money to put up a standard no-frills building right now. But we are Crossroads, and because we advocate sustainability, we are determined to incorporate energy efficient features into this project. In the long term, this approach is the most economical.
In the coming month, we will be sending RFPs (requests for proposals) to area contractors in hopes of starting construction this calendar year. And we will continue to raise money to be able to make the building as "green" as possible. able to make the building as "green" as possible.
---
Chemical and Fertilizer Restrictions to Lawn and Gathering Areas
Crossroads at Big Creek will not apply fertilizers or pesticides to lawn areas and gathering areas which include the Amphitheatre, Council Ring, Rock Garden, and StarGarden as identified in the Master Plan. Pesticides are defined as materials used to control pests, including weeds, insects, and disease. The lawn and gathering areas may be maintained using organic practices and only products approved by the Organic Materials Review Institute (OMRI) will be used if needed. If human health threats encroach into lawn or gathering areas, for example poison ivy or wild parsnip, upon approval from the Board of Directors, non OMRI pesticides may be used temporarily and the site of application must be posted. Any areas beyond those specified above will be posted if treated with non OMRI approved pesticides or fertilizers.
Passed unanimously by the Crossroads Board of Directors
April 24, 2012
---