Of Trees and 'Water Tank Gazebos'…
By now, most of you are aware of the Jim Maki Arboretum and the trees and shrubs that have been planted there over the last two years. In the southern half of the Arboretum near the power line run, we have planted species of trees that you would typically find in a Northern Mesic or Sugar Maple Deciduous Forest. On the eastern and western edges we have pioneer species such as Paper Birch and Poplars and in the interior we have planted Basswood, Sugar Maple, Ironwood and Red Maple.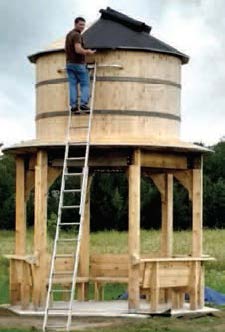 The northern half of the Arboretum consists of a broad expanse landscape planting similar to a Jens Jenson concept designed by Tom Luebker, Master Gardener, woody plant enthusiast and Crossroads volunteer. It features a long list of woody plants from Kentucky Coffee Tree to Winterberry Holly. As this planting grows and matures it will provide a great panoramic view from of all things a 'Water Tank Gazebo.'
Guaranteed to be a one-of-a-kind gazebo, it was the result of many people working together to create a Crossroads original. It was designed by Bill Harder, local 'Good Guy Engineer,' It then progressed by the efforts of Jim Maki 'Local Arm Twister Procurement Specialist' and constructed by Brent Brilla, local 'I Can Do This' carpenter.
The gazebo was constructed from Door County White Cedar milled at Henschel Sawmill and will feature a unique geological specimen donated by Jim Maki. By the time you read this newsletter the Water Tank Gazebo should be complete and ready for Crossroad hikers to rest their weary legs.
As fall settles in, visit Crossroads to check out all our unique and 'One-of-a-Kind' destinations.
Expand article
Dick Weidman,
President, Board of Directors at Crossroads
---
Educator Workshop on Teaching Climate Change
Saturday, October 7; 8:30 a.m. – 3:15 p.m. in the Collins Learning Center
This Climate Change Coalition of Door County workshop will introduce teachers and environmental educators to the basics of climate change and provide classroom ready materials and demonstrations usable both as lab experiments for students or outreach activities for the community.
The $15 registration fee includes lunch and materials. Contact info@crossroadsatbigcreek.org for registration materials.
---
Archaeological Digs
"What a fabulous week! We have to keep this going!"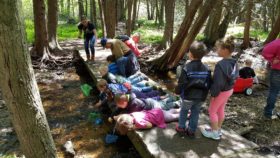 Overheard on the final afternoon of the 2016 Middle School Archaeological Dig as students reluctantly climbed on to their bus, their teachers and our professional archaeologists vowing that they would continue the program.
This October, we indeed will continue the Middle School Dig for the third year. Thanks to this project, which began as preliminary
archaeological surveys of the Big Creek Preserve prior to construction, we have now located and registered Native American sites
on all three of our properties. During the past four years, students from Sturgeon Bay and Sevastopol have excavated a previously unknown chapter of Door County history. Using professional archaeological excavation techniques and documentation, students have unearthed arrowheads, stone knives, scrapers, fire-cracked-rocks, pottery and copious amounts of animal bones and teeth.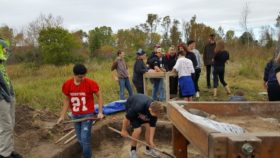 While participating, students developed many skills including mapping, artifact analysis and site interpretation, statistical sampling plans and using the scientific method. The students also furthered their critical thinking skills with respect to glacial history, landscape ecology, cultural adaptation and why people inhabited specific locations in Door County.
All work was conducted under the careful scrutiny of professional archaeologists to prevent unintentional site desecration. But why should middle school students get all the fun? Adults wishing to participate in the fall dig should contact Crossroads
info@crossroadsatbigcreek.org to pre-register for an adult dig during the first week of October.
Expand article
---
A Half Year of Generosity
$20,000 and up
Don and Coggin Heeringa
Anonymous
$10,000 – $19,999
Estate of Peg Foster
$5,000 – $9,999
Estate of Marilyn Cunningham
$2,500 – $4,999
Christine Gritzmacher & Tom Pollock
Door County Medical Center
MMG Foundation
$1,000 – $2,499
Anthony Birdsall fund of the Door County Community Foundation
Breakfast Rotary
Door County Historical Society
John and Karen Kierstyn
Marine Travelift
Sturgeon Bay Utilities
$500 – $999
Bayshore Property Owners
C & S Manufacturing
Fran and Arliss Evenson
Bruce and Grace Frudden
Rick and Nancy Jeanquart
Karl and Lucy Klug
Dave Lenius & Jacqueline Szczepanski – Lenius Financial Services
Marilyn Liebe
Joy Maccaux
Greg and Marsha Meissner
Robert and Carol Moellenberndt
Nicolet National Bank
Pinkert Law Firm
Ross Estate Planning
Sheila Turner
Norm and Mabel Watkins
$250 – $499
Animal Clinic of Sturgeon Bay
Mary Jane Combs
Carol DeVault State Farm Insurance
Door County Dental Care
Eagle Mechanical
Paul and Deb Whitelaw-Gorski
Herbert H. Kohl Charities
Tom and Jill Herlache
Hope Fellowship
Jilot Insurance
Nancy Mattke
Meissner Landscape
Noon Rotary of Sturgeon Bay
Nor Door Sports
Peninsula Vision Care, LLC
Staudenmeir Chiropractic
Wellness Center
John and Donna Thennel
Therma Tron-X
Trolley Tours of Door County
Daniel Tomaszewski
Whitetails Unlimited
Steve and Joan Wilkie
$100 – $249
Dan and Jean Austad
Jeanne Barnard
Bayside Home Medical
Sherry Billett and Joel Kitchens
Laurel Braatz
Pat Blizel
Philip and Cynthia Block
Al Briggs
Randy and Jane Bumgardener
John and Kathy Campbell
Peggy Carstens
Susan Gilson
Anonymous
Nicole Herbst
Mel and Ruthi Henricks
John Hippensteel
Robert and Rebecca Hoover
Lucy Kile
Lake Michigan Wind and Sun
Judy LaVine
Norb and Pat Lenius
Matt Luders
Jim and Valerie Maki
Katie Malvetz
Evelyn and Curt Mingle
Melissa Nelson
Madelyn Ostrand
Jan Olson
Bill and Barb Perloff
Jon and Leanne Pinkert
Matt Propsom
Pete and Carol Schuster
Michael and Barbara Sweeney
Synergy Heating and Cooling
Lee and Ray Vlaming
Thelma Walker
Elizabeth and Joe Wallner
Young Automotive
Beth and John Yount
$1 – $99
Heidi Bader
Carol and John Bartozek
Rose Coisman
Catherine Eckers
Judith Germain
Travis Grooters
Earl and Ruth Hellmann
Deborah Jeanqaurt
Sheila Kalnsky
Kevin and Sue Kieneau
Tammy Kroll
Jeff and Brenda Lange
John and Elsie Lindgren
Marian Mailand
William and Julie Meyers
Ann Quale
Eric and Dee Paulsen
Harry and Judy Porter
John Rosenthal
Jeanne Schopf
Ed Schriner-Schmitt
Brent Sieling
Scott Steebs
Geraldine Szuberla
Jim Tellstrom
Cathy and Rob Vukssanovic
George Wentz
Jolene Wilson
Clifford Wind
Raymond and Jean Young
Carmen Youra
In Memory of…
Marilyn Cunningham
Coggin Heeringa
Robert and Carol Meollenberndt
Marilyn Ostrand
John W. Fredrickson
Sturgeon Bay HS Class of 1974
Family of John W. Fredrickson
Ed Ireland
Don and Coggin Heeringa
Thomas and Suzanne M . Kuffel
Valerie and Jim Maki
Eric and Dee Paulsen
Leroy Liebe
Coggin Heeringa
Marilyn Liebe
Leroy Messersmith
Jim and Valerie Maki
John Thenell
Joan A Draeb
Coggin Heeringa
Judith Wedemeyer
Michael and Barabara Sweeney
Expand article
---
2017 Business Members
Ask about this new giving opportunity
$500 Level
C & S Manufacturing
Lenius Financial Services – Dave Lenius & Jacqueline Szczepanski
Meissner Landscape Inc.
Ross Estate Planning
W E Builders
Wulf Brothers / HiTec Fabrications
$250 Level
Eagle Mechanical
Nicolet National Bank
Pinkert Law Firm LLP
Trolley Tours of Door County
$100 Level
Bayside Home Medical
LfpDesign! LLC
Synergy Heating and Cooling
---
Crossroads Trail Run 2017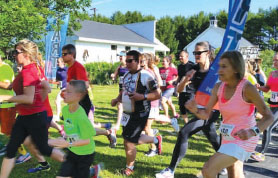 The sun broke through the clouds in time to witness 476 people participate in the 2017 Crossroads Trail Run, including its volunteers and supporters.
Eleven different states, 3 countries and 71 different cities were represented on our Crossroads Trails on June 25. Runners and walkers ranged in ages from four to 86 years old, all outdoors sharing together in healthy activity.
We raised $12,000 to benefit the Friends of Crossroads Ski-For-Free program and to support the Crossroads at Big Creek general fund. The trail run promoted cross-generational recreation and to increased awareness of 'green' living by featuring locally grown and created awards, refreshments and removable trail flags, as well as by leaving a minimal footprint.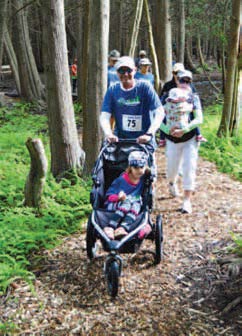 For the first time, Crossroads Trail Run featured all three of Crossroads at Big Creek's three nature preserves. Due to several newly developed trails, the 10k route (6.2 miles) snaked through The Cove Preserve, Ida Bay Preserve and 3.1 miles on the Big Creek Preserve. The creek was all a-flow with fast moving currents, mimicking speedy runners and walkers along the whole course.
Thank you to our 48 volunteers for a multitude of tasks. And a special thanks to the Crossroads Trail Run Team: Colleen Elliott, Matt Luders, Theresa Kay-Meredith, Rich Propsom, Kathy Saladin, Gretchen Schmelzer and Deb Whitelaw-Gorski.
Thank You to Our Sponsors!
Presenting Sponsor
Door County Medical Center
Major
Evergreen Nursery
Marine Travelift
Sturgeon Bay Utilities
Maple Leaf
Animal Clinic of Sturgeon Bay
Anytime Fitness
Culligan of Door County
DeVault State Farm Insurance
Door County Candy
Door County Daily News
Door County Dental
Jilot Insurance /West Bend
Lautenbach Orchards
Logan Creek Soap
Max &Dee's HoneyBees
Nor Door Sport & Cyclery
Peninsula Vision Sunglasses
Pinkert Law Firm
Staudenmaier Chiropractic
Target
Dr. Dan & Heidi Tomaszewski
Yellow Wall Pottery
WDOR
Whitetails Unlimited
Dogwood
Roger and Sandy Anderson
Bayside Home Medical
Lake Michigan Wind & Sun
Dr. Shaun & Susan Melarvie
Dr. Melissa Nelson
Ross Wealth Management
Jon and Leanne Pinkert
Wal-Mart
Expand article
– Gretchen Schmelzer, co-chair
---
Door County Sustainability Fair
Together we can make Door County a greener place!
Sept. 23, 2017 10 a.m.-4 p.m
Local Music
Local Food & Produce
Local Businesses
Fun Family Activities
---