Have You Noticed …?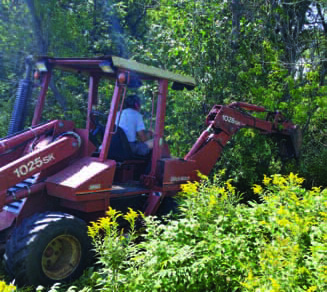 As the long days of summer shorten, it is a good time to take notice of some changes in the landscape at Crossroads and prepare for upcoming changes this Fall. Land and Facilities Manager Rich Propsom was very busy this summer.
The hardscape features around the CLC have been evolving, and will continue to evolve into fall. A bog garden, native planting, and a bird feeding station around the Collins Learning Center will be established this fall or next spring.
The parking lot renovation is moving forward with initial expansion and devel-opment happening this fall with an anticipated completion date of next spring.
The Maki Arboretum planting survived a somewhat warm summer, thanks to care from Jim Maki and timely rainfalls. For 2017, we are planning another plant-ing of Wisconsin trees and shrubs. A unique gazebo is being designed for the cen-ter of the arboretum.
Hopefully you took time this summer to notice and enjoy out our new walkway dock and observation walkway at The Cove near the mouth of Big Creek. This will be a great place to observe wildlife and plant life this fall. Rich has put a lot of time and effort in developing this area in addition to upgrading the trail leading to the observation docks from the bridge on Utah Street. A grass parking area just off 20th Place will be convenient for Big Creek Cove visitors.
Hikers in our original preserve will notice "the war on invasives" that Rich, with assistance from our summer staff assistant Joel Kaminski, waged this summer. An-ticipate some trail improvements developing this fall and winter.
This fall, we again will be conducting archaeological digs at both Big Creek Cove and Ida Bay properties.
Yes, there are and will continue to be changes and improvements to notice and enjoy this Fall and for years to come at Crossroads. Stop in and see them all.
Expand article
Dick Weidman,
President, Board of Directors at Crossroads
---
New Parking Lot Underway!
…and Only $75,000 Short!

Thanks to the generosity of our community, we have raised about $225,000 toward our parking lot expansion. With only (ONLY?) $75,000 more to raise, we are launching the project.
We are pleased to announce that the contract for the Crossroads parking lot project was awarded to our good neighbor and low bidder Lily Bay Sand and Gravel. Lily Bay and our engineering firm of Baudhuin Inc. are both local firms with years of experience serving the Door County community. Lily Bay is an especially good neighbor, donating time and equipment to keep our snow plowed in the winter.
Shortly after contract award, Crossroads sat down with Baudhuin and Lily Bay to discuss project scheduling. Of great importance was the lead time for paving materials, managing the limited access to buildings during construction, availability and sequencing of equipment and material for the construction phase, subcontractor availability and timing, and finally, dealing with the upcoming cold weather.
During these discussions, it became evident that lead time for acquiring critical materials and cut-off date for asphalt installation problematic. Our compromise plan involves completing the project in 2 phases.
Phase 1 – 2016 Fall:
Ground will be cleared, filled and graded east of the existing parking lot. Drainage tile and the rain garden detention area on this portion will be installed. The existing lot will remain "as is" so educational activities can continue at the Collins Learning Center this fall and winter.
Phase 2 – 2017 Spring: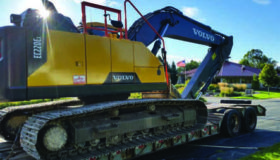 Once the weather is warm and ground is dry (enough) we will resume work by breaking up the old parking lot and regrading it to final elevation. As soon as both new and old sections are filled, graded and graveled, asphalt and pervious pavement will be installed. We anticipate that there will be periods where parking may be significantly limited due to construction demands. But we will make every ef-fort to provide access to the Collins Learning Center and the Door County Historical Society's Heritage Village at Big Creek.
In summary, we believe our compromise will be less disruptive than our original plan. Construction has begun this fall with site preparation to the east of the existing parking lot. During winter, both the old parking lot and portions of the new area will be open for use. Next spring, work resumes, and by early summer, we will have adequate parking and be able to showcase innovative management practices for reducing adverse water impacts and light pollution.
---
A Half Year of Generosity – Gifts from January 1 through July 31, 2016
*Indicates a special gift designated for the Parking Lot Project.
$50,000 to $99,999
Anonymous Donor*
$10,000 – $24,999
Don and Coggin Heeringa Portland Trust II
$5,000 – 9,999
Door County
Community Foundation Dick and Annie Egan fund of the Door County Community Foundation*
$2,500 to $4,999
James and Cathy Collins*
Christine Gritzmacher and Tom Pollock*
Barb and Mike Madden Fund of the Door County Community Foundation*
Ministry Health Care
MMG Foundation, Inc*
Sturgeon Bay Utilities Wisconsin Space Grant Consortium
$1,000 to $2,499
Rev. Anthony Birdsall fund of the Door County Community Foundation
Dennis and Bonnie Connolly*
Door County Community Foundation
Hislop Family Foundation
John and Nancy Munch*
Eric and Dee Paulsen*
Shelia Turner*
Brian and Joan Wake*
$500 to $999
Anonymous Fund of the Door
County Community Foundation*
Lee and Susan Basten*
C & S Manufacturing
Callsen Fund of the Door County
Community Foundation*
David and Janet Daniel*
Door Propery Owners*
Fran and Arliss Everson
Friends of Crossroads
Green Fund of the Door County Community Foundation
Pat and Judy Fitzgerald*
Grace and Bruce Frudden
Friends of Crossroads*
Cynthia and Jack Follick*
Herlache Fund of the Door County Community Foundation
Jilot Insurance Agency
Diane Jome*
Edward and Cindy Koutnik*
Meissner Family Fund of the Door County Community Foundation*
Bob and Carol Moellenberndt*
Nicolet Bank
Noon Rotary Club of Sturgeon Bay
Pinkert Law Firm LLP
Ross Estate Planning
Anonymous
Noon Rotary Club of Sturgeon Bay Your Cause-Thrivent Financial for Lutherans
Trolley Tours of Door County, Inc.
Volunteer Center of Door County
$250 to $449
Animal Clinic of Sturgeon Bay
Susan Austad*
Lee and Susan Basten*
Bayside Home Medical
Carol DeVault State Farm Insurance
Joseph and Lori Cedzo*
Mary Jane Combs*
Dentistry by Design
Door County Dental Care
Mike and Sue Eliason*
Scott and Kerry Galson
HATCO
Trudy Herbst*
John and Nell Herlache*
Herb Kohl Philanthropies
Jilot Insurance Agency
John and Karen Kiesty*
Leroy and Marilyn Liebe
Margaret Madel*
Katie (Claire) Malvetz
NorDoor Sport and Cyclery
Peninsula Planters Garden Club*
Pinkert Law Firm
Grace and Glenn Rossman* Stellar Enterprise LLC
John and Jane Stevenson Fund of the Door County Community Foundation
Tim and Sue Stone*
Barbara and Michael Sweeney*
Deb Whitelaw Gorski*
Dan and Heidi Tomaszewski
Norm and Mabel Watkins*
Whitetails Unlimited
Stephen and Joan Wilkie
Zion United Methodist Church
$100 to $249
Tom and Sue Alt*
Roger and Sandy Anderson
Dean and Sue Anschutz*
Walter Bentley*
Sherry Billett and Joel Kitchens
Philip and Cynthia Block*
Alvin Briggs*
Birmingham Builders, Inc.
James and Barbara Bunning*
Anonymous
Jane Dalton*
Dorene Dempster and Mark Herrell*
Anonymous*
Nick Doane
DORSAL LLC
Rob and Colleen Elliot*
Ronn and Mary Gilbert*
Susan Gilson
Girl Scout Troop 4249*
John Glesner
John Guenther
Michael and Connie Glowacki
Albert and Lynn Goeppinger*
Katherine Green*
John Guenther
Hannamann – Gosser Insurance
David and Ann Harsh*
Robert and Donna Hays*
Havegard Farm, Inc.
Mel and Ruth Henrichs
Nicole Herbst
Del Herrbold*
Kenneth and Jean Hill
John Hippensteel
James Hoehn and Nancy Goldberg*
Robert and Rebecca Hoover*
Hope Fellowship*
Bill and Sarah Freyman
Barb and Gary Henklemann
James and Phyllis Ingwersen*
Rick and Nancy Jeanquart
Delane Jome*
Dave Jordal
Paul and Kanani King*
Gerald and Nancy Krause*
Lake Michigan Wind & Sun
Jeffrey and Brenda Lange*
Nancy Mattke
Karl and Erika May*
Evelyn and Curt Mingle
Ivy Nelson*
Gerald and Patricia Olson
Janice Olson*
Madylyn Ostrand*
Bill and Barb Perloff
Jon and Leanne Pinkert
Ross Wealth Management
Bela and Ruth Sandor*
Gretchen Schmelzer
Carl and Ruth Scholz*
Jerry and Ronda Schomburg*
Sally Schopf*
Dick and Dottie Shappell*
Carrie Sherrill*
Peter and Gloria Sigmann*
Nyla Small*
E. Lee Somerville*
Michael Sorenson
Staudenmaier Chiropractic
Keith and Yvonne Stukenberg*
Third Avenue Playhouse*
Rob and Cathy Vuksanovic*
Michael and Millirose Walker
Elizabeth and Joseph Wallner
Frank and Carol Weber*
Mari and Dick Weidman*
Jeff and Maggie Weir*
Tripp and Nancy Widder*
Danny and Mary Williams
Kerry and Kathleen Vavra*
Patricia Vollrath*
Rob and Cathy Vuksanovic*
Young Automotive
Duane and Leslie Youngsteadt*
Elizabeth and James Williamson*
$50 – 99
Dean and Susan Anschutz
Jeanne Barnard
Patrick Blizel
Carol Bockhop*
Alvin Briggs*
Randy and Jane Bumgardner
John and Katherine Campbell
Bill and Cheryl Chaudior*
Peter and Carol Clikeman*
George and Margaret Collier
Daniel and Chris Daubner*
Michael And Sandrea Demaster*
Richard and Sandra Dirks*
Sally Everhardus*
Emery and Pam Freiberg
Janet Gale*
Elaine Gabert*
Judith Germain
Ron and Mary Greisen*
Gerald and Mary Lou Guth
Earl and Ruth Hellman
Daniel Herrold
Mark and Michaela Holey*
Christine Holicek*
Dale and Joan Jeanquart
Gary and Michelle Kemp*
Allen and Darleen Kimber*
Lucy and Tom Kile*
Herb Klein and Cal Bonniver*
Cathy Laba*
Chris and Constance Larsen
Norb and Pat Lenius*
Lawrence and Elfriede Leporte
Jan Livingston*
Roy and Charlotte Lukes
Earlene Lutzke*
Jill Mackey-Feist*
Marian Mailand*
Shawn and Susan Melarvie
Al Miller and Vickie Dirst*
Joyce Miller
Janet Mickelson*
Gretchen Montee
Bob McCurdy*
Betty Ostram
Sigrid and Tony Peot
Rachel Pratt
Harry and Judy Porter
Rachel Pratt
Matt Propsom
Ann Quale
Joyce Risser
Karen Sandstrom*
Gordon and Diane Saron*
Alice Sautebin*
Robert and Pat Scieszinski*
Brent Sieling and Megan Schliesman
Pete and Carol Schuster*
Marguerite and Dennis Skahen*
Gertrude Stillman*
Gary Soule*
Julie Taylor*
James and Donna Urban*
Randy Watermolen
Richard and Sharon Virlee*
Raymond and Lee Vlaming
Anonymous*
Carmen Youra
Dwight and Pam Zeller*
Geir Szuberia
$1 – 49
Eileen Andrera
Heidi Bader
Carol and John Bartoszek
Jane Bruesch*
Barbara Chisholm*
Cheryl Choronzy
Rose Coisman
Elaine Cregan
Joan A. Draeb*
Catherine Eckers
Nancy Emery*
Travis Gooters
Deborah Jeanquart
Ann Jerdee*
Judy and Lew Juadis
Allen and Darlene Kimber*
Tammy Kroll
Robert and Janice King
Eileen Koelpien*
Chris and Connie Larsen
Donna Leighton*
Ellen Looker
Janet Mickelson*
Betty Ostram
Bill and Sonja Polster
Belinda Richard
Glen and Karen Reichard*
George and Kristi Roenning*
John Rosenthal
Karen Sandstrom*
Jean Schopf
Edward Schriner-Schmitt
Marsha Smith*
Scott Steebs
Mary Stephenson*
Geri Szuberla*
Kurt and Tara Stueber*
James Tellstrom
Jon and Cynthia Wargo*
Jolene Wilson
Clifford Wind
2016 Business Members
$500 Level
C & S Manufacturing
Meissner Landscape Inc.
Midwest Archaeological Consultants
Ross Estate Planning
Thrivent Financial – Door County Team
Thrivent Financial – Jacqueline Szczepanski
$250 Level
Bayside Home Medical
Door County Trolley
Gordon's West Side Electric
Jilot Insurance Agency, Inc. Nicolet Bank
Pinkert Law Firm LLP
Viking Electric Supply
Wulf Brothers / HiTec Fabrications
$100 Level
Birmingham Builders, Inc.
Dorsal
Gordon's West Side Electric
Hannemann-Gosser Insurance & Financial Services
Havegard Farms, Inc.
LfpDesign! LLC
Source Building Services, LLC
Young Automotive, Inc.
Special Thanks!
Gerry Banks, Sturgeon Bay High School Boy Scout Troop 1022
Door County Community Foundation
Door County Daily News.com
Door County Advocate
Door County Environmental Council
Door County Historical Society
Door County Libraries
Friends of Crossroads
Master Gardeners of Door County
Mike Grota
Lake Michigan Wind & Sun
LfpDesign! LLC
Midwest Archaeological Consultants
Peninsula Pulse
Raibrook Foundation
Sunshine House
Sturgeon Bay Utilities
Sunrise Ambassadors
Volunteer Center of Door County
Wild Ones of Door County
Write On Door County
Expand article
---
Planting Trees/Creating Corridors
The 2016 Crossroads Educational theme is Wildlife Corridors
We have gone beyond teaching about corridors. We have started the task of connecting our fragmented forest habitats by planting native trees.
This spring, Boy Scouts from Troop 1022 planted more than 600 small native trees in the southeast Corner of the Preserve. Several Girl Scout groups have transplanted trees "rescued" from the area soon to become our parking lot expansion.
The first planting phase of the Maki Arboretum was accomplished in early summer. The 275 trees –Quak-ing Aspen, Ironwood, Sugar Maple, Red Maple, and Basswood – represent the species which grew at Crossroads at the time of European Settlement.
Now they are young trees – someday, they will be wildlife corridors.
---
The Trail (Run) to Better Skiing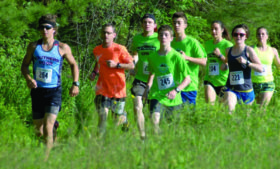 The 7th annual Crossroads Trail Run attracted 325 participants from 13 states and 78 cities onto our well groomed trails, in spite of the the heavy roundabout construction. Along with the benefits of providing runners, walkers, and spectators the opportunity to be outdoors, our Crossroads Trail Event made an amazing profit of $11,600.
Proceeds from the Crossroads Trail Run will be used, in part, to upgrade Crossroads SKI-for-FREE program through the purchase of new ski and snowshoe equipment, maintaining ski trails, and preparing for a permanent space for this program.
The Crossroads Trail Run event and the Ski-For-Free at Crossroads program bring community members and guests outdoors, connecting with nature, and building memories. Thank you to The Friends of Crossroads volunteers for making these events happen.
Thank You to Our Sponsors!
Presenting Sponsor
Ministry Door County
Medical Center
Major
Evergreen Nursery
LAKESHORE Landscape and Design
Sturgeon Bay Utilities
Maple Tree
Carol DeVault State Farm Insurance
Dentistry by Design
Jilot Insurance Agency
Nor Door Sport and Cyclery
Northern Door Dental Care
Dr. Dan and Heidi Tomaszewski
Deb Whitelaw Gorski
Whitetails Unlimited, Inc.
Dogwood
Roger & Sandy Anderson
Lake Michigan Wind and Sun, Ltd.
Dr. Shaun and Sue Melarvie
Ross Wealth Management
Gretchen and Steve Schmelzer
Staudenmeaier Chiropatric
---
A Legacy Gift
The true meaning of life is to plant trees, under whose shade you do not expect to sit.
– Nelson Henderson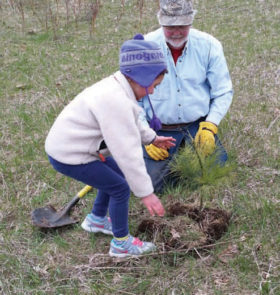 Though you may not literally plant trees at Crossroads, you can figuratively "plant trees" with a legacy gift to protect and preserve our environmental treasure.
In years to come, thanks to your legacy gift, learners of all ages will still be able to hike and bike through upland meadows and colorful autumn forests at Crossroads … skiers will savor peaceful silence as they glide through snow-flocked trees at our Ida Bay Preserve … grandparents and children will share the excitement of the annual sucker run in Big Creek or watch the sunset from Big Creek Cove.
You can help tomorrow's children get in touch with nature with experience-based school field trips, help adult learners expand their horizons with a variety educational programs, and know that the community at large will benefit from the research done in the Collins Learning Center Lab. Legacy gifts will change lives in the future, just as Crossroads is changing lives today.
Occasionally, we are aware that people have remembered us in their wills or trusts, or have named us as beneficiaries of IRAs or insurance policies. More often, a bequest comes as a bittersweet surprise.
Obviously, you want to ensure that your loved ones will be provided for in the future, but you can provide for Crossroads as well. Call your attorney, financial planner, estate planner or our good friends at the Door County Community Foundation. They can suggest a variety of instruments through which you can leave a legacy.
Legacy givers tell us that they feel a profound satisfaction in knowing that even beyond their deaths, their lives will continue to have meaning.
---
Big Creek Cove Preserve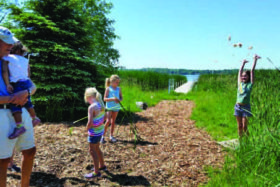 When Crossroads acquired the 9-acre Big Creek Cove Preserve, we did so to protect the Wildlife Corridor. This year, we upgraded the trail and installed a floating dock and observation deck, so people can use the our "human corridor" as another path to get in touch with nature.
Last spring, archaeologists from Midwest Archaeological Consultants excavated artifacts and features along Big Creek that indicate a Late Woodland Period (roughly 1200-1000 years ago) occupation by Native Americans subsisting on fish, small mam-mals and deer.
This fall, students and teachers from area schools, interested adults, under the supervision of the archaeologists will assume the role of "citizen scientists" and conduct systematic excavations and record artifacts at the recently discovered site at Big Creek Cove Preserve.
---