Message from the President
Thank You Mr. Maki
Teachers devote most of their career in educating their students in the present time. It takes, however, special individuals who are able to look beyond those everyday routines and imagine or recognize what could be and proceed to make it happen. "Movers and Shakers" I believe is a common term to describe those people. Most of us who have known Jim Maki would agree that he fits that description very well.
From Crossroads' humble beginning as a tract of land only described as a 'School Forest' to what it is today, Jim Maki has been a driver, passenger and mechanic for the vehicle, Crossroads. He has helped to create alliances with both public and privately funded groups and individuals to get projects up and running.
As a passenger, he then enjoyed the ride as other people joined in the journey to its destination. As a mechanic, he has helped keep the Crossroads vehicle running often times without missing a beat. From the mundane maintenance to fabricating new parts, Crossroads has traveled many miles because of his diligence and dedication to keeping the wheels greased and moving down the road.
At our last Building and Grounds Committee meeting, Jim announced his intentions to retire as our Building and Grounds Contractor. Although this creates the monumental task for our Board to decide on a course of action, everyone at Crossroads want to take this opportunity to thank Jim Maki for his vision and guidance in creating what we all associate The Crossroads at Big Creek as it is today.
Jim has agreed to stay on as our 'unofficial' Grounds and Maintenance Contractor till October 31st. When you see him, a pat on the back and "Thank You Jim Maki" would be in order, and much appreciated by him I am sure.
Thank you Jim.
Richard Weidman,
President, Crossroads Board of Directors
Expand article
---
Experience-Based Learning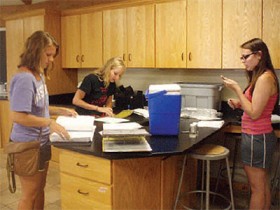 This summer, Crossroads has been a place of learning for young environmental professionals. We again hosted the "Beach Team", a group of researchers from the University of Wisconsin-Oshkosh who have been doing sophisticated molecular level investigations in the lab of the Collins Learning Center.
We also employed two interns. Payton Parker, a recent graduate of UW-Oshkosh, did land management and public contact work throughout the summer and during August, helped with the preliminary planning at our Ida Bay Forest. His project was to survey, map and create a remediation plan for invasive species at Crossroads.
During August, Joel Kaminski, a senior at UW-Stevens Point, began work on a Land Use Plan for the Ida Bay Forest. With guidance from UWSP professors, he and Payton did GIS mapping of land forms, plant communities, and existing trails. They also did plant inventories. Joel will continue his project during the school year.
Internships were funded in part with at grant from Door County Community Foundation.
Expand article
---
For Teachers, Naturalists & Environmentalists
Educator-Workshops on Climate Science & the ACS Toolkit
September 27, 8:30 a.m. – 3:15 p.m.
Collins Learning Center • $12 registration includes lunch
Info: Frank Shaw (cfshaw@ilstu.edu) and Bruce Smith (bsmith733@gmail.com)
Registration: Please contact Sherrill Anderson (LNRP) at sherrill@lnrp.org or 920-412-1920
Sponsored by: Climate Change Coalition of Door County & Lakeshore Natural Resource Partnership, American Chemical Society Climate Science Outreach Team (Illinois Heartland), American Meteorological Association Atmospheric Education Program
---
Running Wet for Crossroads … OK Running Green for Crossroads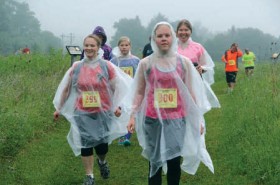 The rains came, yet the 5th annual Running Green for Crossroads Trail Run was once again a success, thanks to our loyal sponsors, volunteers, and participants. Despite the downpour, 324 runners and walkers, ranging in ages three to eighty two, splashed through the wetness, and crossed the finish line with triumph!
And we are happy to announce that, in spite of the weather, the event exceeded the goal, raising $6,200 for Crossroads at Big Creek.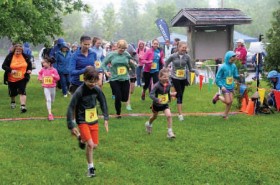 Thank You to Our Sponsors!
Presenting Sponsor
Ministry Door County Medical Center
Major Sponsors
Evergreen Nursery
Sturgeon Bay Utilities
LAKESHORES
Landscape and Design
Maple Tree Sponsor
Animal Clinic of Sturgeon Bay, LLC
Anytime Fitness
Bay Pharmacy
Door County Daily News
Pinkert Law Firm LLP
State Farm Insurance Companies
Dr. Dan & Heidi Tomaszewski family
WDOR
Whitetails Unlimited, Inc.
Dogwood Sponsor
Roger & Sandy Anderson
Associated Bank
Inge Alverson Bacon CPA
Bluefront Café
Deb Whitelaw-Gorski
Dr. Ed & Cindy Koutnik
Wally and Kathy Laba
Jim and Val Maki
Dr Shaun and Sue Melarvie
Ross Wealth Management
Gretchen Schmelzer
Target
Award Donations
Evergreen Nursery
Keith Carter of Clay on Steele
Henschel Farms
LAKESHORES Landscape and Design
Wienke's Market
Door Prizes
Door County Natural Creations
Sturgeon Bay Utilities
Refreshments
Schopf's Dairy View Country Store
Lautenbach Orchards
The Black Walnut Guest House
Econo Foods
Medical Services
Ministry Door County Medical Center
Thank you to Bob and LuAnn Desotelle, Mike and Kim Herlache, and the Ostrand-Harding families for sharing their land with us and making the 10K trail run possible.
---
Fall Fund Drive
Sixty two thousand thank yous to the individuals, organizations, businesses, and foundations who have donated almost two thirds of the $100,000 needed to create our the Lower Level Learning Space in the Collins Learning Center.
Last spring, an anonymous donor offered to match up to $10,000 to kick-start our fund raising efforts. Our donors reached and exceeded that goal in the first month and gifts continue to come in. But we also need a new roller to groom our winter trails for skiing and hiking and we are planning to do extensive maintenance on the exterior of the Collins Learning Center.
Alas, when people are so generous in helping with special projects, giving to our general operating fund usually decreases.
We now are on our final push for the Learning Space and we hope to reach our goal before December. And we need the roller before the snow flies. But when people ask our greatest need, the honest answer is we need a steady revenue stream to continue to maintain our facilities and preserve.
So … if you want to help Crossroads this fall, please make your donation to our operating fund, and then, if you can afford to do so, make an extra gift to help us reach our special project goals. A gift of any size will help. And we thank you in advance for your support.

Uses for the Lower Level
Meeting room
Classroom
Discussion groups
Small luncheons
Art room
Dining for adult & kids
Rehearsal hall
Exhibit room
Child care
Potting room
Breakout groups for conferences
Expand article
---
A Half Year of Generosity
Gifts made in 2014 (Donations made during the second half of 2014 will be listed in the next newsletter)
$10,000 and more
$5,000 – 9,999
Dennis and Bonnie Connolly*
The Estate of Margaret Foster
Don and Coggin Heeringa*+
Ministry Door County
$2,500 to $4,999
Christine Gritzmacher*
Green Fund – Door County Community Foundation
$1,000 to 2,499
Anthony Birdsall
Breakfast Rotary*
Fran and Arliss Everson *
Meissner Family Foundation
MMG Foundation*
Sheila Turner*
Wisconsin Space Grant Consortium
Zion United Methodist Church*
$500 to 999
Anonymous
Philip and Cynthia Block*
Door County Master Gardeners*
Grace and Bruce Frudden
Valerie and Jim Maki
Bob and Carol Moellenberdt
Noon Rotary Club*
Jacqueline Szczepanski Thrivent Financial
$250 to 499
Animal Clinic of Sturgeon Bay
Anytime Fitness
Bay Pharmacy
Bill and Yvonne Boettcher*
Carol DeVault – State Farm Insurance
Jason Feldman Landscapes
Herbert H. Kohl Charities*
Tom and Jill Herlache
Robert and Rebecca Hoover*
Huehns Funeral Home*
Delane Jome
Tom and Marsha Kerley*
Jeff and Barb Ottum
Pinkert Law Firm LLP
Daniel and Heidi Tomaszewski
W E Builders*
Whitetails Unlimited
Steve and Joan Wilkie
$100 to 249
Roger and Sandy Anderson*
Dean and Susan Anschutz*
John Asher*
Associated Bank
James and Barbara Bunning*
R. David and LaVonne Callsen*
John and Katherine Campbell*
James and Joan Carlson*
Anonymous
Door Peninsula Astronomical Society
Eagle Mechanical
William and Sarah Freyman*
John and Edith Fulkerson
John Glesner*
Anonymous
John and Christine Guenther*
Richard and Carrie Hauser*
Howard Hintze
Dean and Julie Hoegger
Mark and Pam Honold
Ed and Cindy Koutnik
Emery Krueger*
Joy Maccaux*
Paul and Marilyn Mahlberg*
Nancy Mattke
Anonymous*
Allen Miller and Victoria Dirst*
Camilla Nielsen*
Northern Door Pet Clinic
Jan Olson
Madelyn Ostrand
Sandra Ott*
Anonymous
Bill and Barb Perloff
Thomas and Elizabeth Polonus
William and Karen Roberts
Ross Wealth Management
Kathleen Rowe*
Leona Rylander
Pete and Carol Schuster*
Richard and Dorothy Shappel*
Gertrude Stillman*
Van Akkeren Family Trust*
Kathie and Kerry Vavra*
Raymond and Lee Vlaming*
Eric and Patsy Vollrath*
Cathy and Rob Vuksanovic
John and Beth Yount
Mary Wanke*
Norm and Mabel Watkins
Mari and Richard Weidman*
Mary and Cap Wulf*
Pam and Dwight Zeller
$50 – 99
Rod and Sally Alexander*
Marlene Allen
Inge Alverson Bacon CPA
Jeanne Barnard
Thomas and Nancy Bennett*
Pat Blizel
Eileen and Rodney Bohn*
Cal Bonnivier and Herb Klein*
Randy and Jane Bumgardner
William and Cheryl Chaudoir*
Barb Chisholm
Pete and Carol Clikeman
Luke Collins*
Chriss Daubner
June Ehbar +
Mike and Sue Eliason
Molly and Pat Gary*
Ronn and Mary Gilbert*
Jane Guthrie
Earl and Ruth Hellman
Nicole Herbst
Dale and Joan Jeanquart
Ann J. Jerdee*
Marne Kaeske*
Gary and Michelle Kemp
Lucille Kirkegaard*
Kathy Laba
Roy and Charlotte Lukes
Joyce Miller*
Eunice McCormick
Doug and Pam McGee*
Gretchen Montee
Clifford G. Orsted*
Paul Pinkston*
Matthew Propsom
Anna Quale
Gordon Saron
Brent Sieling and
Megan Schliesman
James Tellstrom
Thelma Walker
Randy Watermolen
Frank and Carol Weber*
Louis C. Williams and Mary C. Moster
Betsie and Jim Williamson*
Carmen Youra
Carol Zago
$1 – 49
Donna Asher
Jacqueline Aufrere-Sebetic*
Heidi Bader
John and Carol Bartoszek*
Elizabeth and James Baxter*
Dolores Bullis
Cheryl Choronzy
Rose Coisman
Nellie DeBaker*
Cathy Eckers
Myrtle Felhofer*
Laurie Hoffman
David Furnjanic and
Maureen Kellyfurjanic
Elaine Gabert*
Harold and Catherine Gerdman*
Travis Grooters
Brian and Lori Holtz*
Ed and Margo Ireland*
Deborah Jeanquart
Tammy Kroll
Jean and Doug Laundrie
Arlene Lenius*
Ellen Looker*
Peggy Lott
Marian Mailand*
Janet Mickelson*
James Nelson*
Betty Ostrand*
Bill and Sonja Polster
Harry and Judith Porter
Helen Reed*
Belinda Richard
John Rosenthal
Jeanne Schopf
Sally Schopf*
Marian and Roderick Schlise
Edward Schriner-Schmitt
Marguerite and Dennis Skahen*
Dorothy Tlachac
Suzanne Wagner*
George and Catherine Wentz*
Herb Klein and Cal Bonnivier*
Jolene Wilson
Clifford Wind
Duane and Leslie Youngstead*
Janet Ziemann*
MEMORIALS FOR…
John Collins
Baylake Bank
Leif Everson
Bill and Sonja Polster
Tyler Frea
Lori and Scott Frea
Chris and Connie Larsen
Helen Knipfer
Sarah and David Koelling
Richard Kroll
Nancy Deutsch TeSelle
John Deutsch
Carl "Curley" Larsen
Michael and Barbara Sweeny
Robert Reed
Julia and Bill Meyers
Kurt Robertson
Eileen Robertson
Orv Schopf
Mary Wanke
IN HONOR OF…
Madelyn Ostrand on her 90th Birthday
Norm and Mabel Watkins
Lori Orlander
Norb and Pat Lenius
Eric and Dee Paulsen
Thelma Walker and Hap Smith
Don and Coggin Heeringa
Mona Simpson
Kathie and Kerry Vavra
John Toppe
Catherin Caen
Jeannie Eggert
Darrel and Elaine LaLuzerne
Thank You!
Gerry Banks
Boy Scout Troop 1140
Door County Advocate
Door County Daily News.com
Door County Historical Society
Door Peninsula Astronomical Society
Evergreen Nursery
Fran and Arliss Everson
Friends of Crossroads
Brian and Lori Holtz
Jason Feldman Landscapes
LAKESHORES Landscape and Design
Little Hoppers
Master Gardeners of Door County
Ministry Door County
Running Green Organizers
Peninsula Pulse
Pete and Carol Schuster
Sturgeon Bay Utilities
WDOR
The Raibrook Foundation
Dale Vogel
---
Crossroads at Big Creek & The Door Peninsula Astronomical Society Present
Astronomy Day 2014
Saturday, September 27 1:00-4:00 Rain or Shine
Light Demonstrations, Solar Viewing, Planet Walk, Crater-Making, Sundial for all ages!
At the Stonecipher Astronomy Center (use the Utah Street entrance)
7:30 PM Lunar/Night Sky – Viewing with Telescopes (clear sky only)
Wisconsin Science Festival 2014
Saturday, October 18 Spectrum Day: Beyond ROY G BIV
2:00 – 4:00 Family Activities at the Collins Learning Center
2:00 – 4:00 Spectroscopy Demonstrations at the Stonecipher Astronomy Center
7:00 Planetarium Show
If skies are clear, move outside for night sky viewing.
The activities for both events are free and open to the public.
---