Message from the President
Engagment Announcement
Engagements are always monumental times in our lives. Usually, two people of similar interests and thought, announce their intentions to commit themselves to a long lasting relationship. Here at Crossroads we constantly celebrate engagements.
People becoming engaged to projects and events at Crossroads have led to many long lasting and productive marriages. Some of our engagements this summer included:
Researchers from UW-Oshkosh were engaged in water quality and beach testing.
Master Gardeners and the Sturgeon Bay Home and Garden Club have loved and cherished our Heritage Garden.
Door Peninsula Astronomical Society landscaped the Utah Street Entrance, plan to add a parking lot to the Astronomy Campus and will partner with Crossroads to present Astronomy Day 2013 on October 12.
Collin Mirkis, Mike Everett and Scott Mathison have made a commitment to become Eagle Scouts by doing projects at Crossroads.
Friends of Crossroads and an array of sponsors (see page 5) presented another successful Running Green Event and …
Watch our web site for an upcoming very important engagement announcement which, if all goes as planned, will lead to a very long lasting marriage of Crossroads and a close neighbor.
Being engaged is a great feeling, especially to such a wonderful partner as Crossroads. We at Crossroads are ready and able to help you with your engagement announcement which we hope will lead to long and fulfilling marriage to our mission of Learning and Living.
Enjoy the coming Fall Season.
Dick Weidman,
President, Crossroads Board of Directors
Expand article
---
More Space for Learning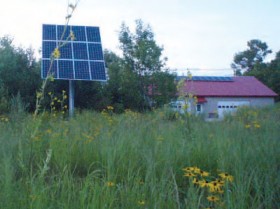 Constructing our Maintenance Building was only half of the project! By emptying the lower level of the Collins Learning Center of vehicles and shop equipment, Crossroads can focus on the second objective of creating an additional and much needed education space.
The inclination is to call in the volunteers and start slapping paint on the walls and throwing up temporary dividers, but we want to do it right. Thanks to grants and designated gifts, we were able to engage Marc Isaksen Design, LLC to create a schematic design for our proposed education space.
Before we begin preliminary talks with the architect, we come to you for opinions and ideas. Friends of Crossroads and Crossroads Board members have contributed the ideas below. But we want input from a variety of people who believe in our mission and who use our facilities. We invite you to participate in our planning by filling out the questionnaire below. (Please return it in the envelope provide or if you prefer, call 920-746-5895 to discuss your ideas.)
What Would You Value in the Lower Level Education Space?
Expand article
---
A Half Year of Generosity
Gifts from Januar y 1 – June 30, 2013
(Gifts from th e s econd h a l f o f the year will be listed in our holiday issue)
$10,000 and above
Paul and Fran Burton
Don and Coggin Heeringa
$5,000 to $9,999
$2,500 to 4,999
Ministry Door County Medical Center
$1,000 to 2,499
Father Anthony Birdsall
Meissner Family Foundation
MMG Foundation
$500 to 999
Lee and Susan Basten
Door County Master Gardeners
Grace and Bruce Frudden
Fran and Arliss Everson
Diane Jome
Bob and Carol Moellenberndt
$250 to 499
Anonymous
Bonnie and Daniel Balch
Herb Kohl Charities
Katie (Claire) Malvetz
Ray Stonecipher
Norman and Mabel Watkins
$100 to 249
Birmingham Builders
Mary Ann Blahnik
Bob and Nancy Davis
Anonymous
Eagle Mechanical
Edith Fulkerson
Bill and Cleida Galligan
John and Chris Guenther
Jane Guthrie
Dave Jordal and Linda Hinkston
Howard Hintze
Robert and Rebecca Hoover
Huehns Funeral Home
James and Elsbeth Knutson
Norb and Pat Lenius
Nancy Mattke
Jan Olson
Madelyn Ostrand
Eric and Dee Paulsen
Bill and Barb Perloff
Kathy Rowe
Anonymous
Gordon and Diane Saron
Gretchen Schmelzer
Daniel Tomaszewski
James and Donna Urban
Terry Ulman/Door County Candy
Rob and Cathy Vuksanovic
Joan and Brian Wake
David and Judith Ward
Mari and Dick Weidman
John and Carol Zago
Dwight and Pam Zeller
$50 – 99
Jeanne Barnard
Pat Blizel
Randy Bumgardner
Barb Chisholm
Margaret and George Collier
Mike and Sue Eliason
Harold and Catherine Gerdmann
John M. Glessner
Earl and Ruth Hellamnn
Mel and Ruth Henrichs
Nicole Herbst
Carol Hobson
Brian and Lori Holtz
Dave Holzinger
Karen Johnson
Paul and Kanani King
Cathy Laba
Arlene Lenius
Ellen Looker
Roy and Charlotte Lukes
Marion Mailand
Joyce Miller
Gretchen Montee
Matthew Propsom
Anna Quale
John Rosenthal
Jeanne Schopf
Edward Schriner-Schmitt
Thomas and Margaret Schueppert
Carol and Pete Schuster
Bernice Shumway
Brent Sieling and Megan Schleisman
Kay Stack
Scott Steebs
Trish Stocking
Scott Wake
Randy Watermolen
Carmen Youra
John and Carol Zago
$1 to 49
Heidi Bader
Cheryl Choronzy
Rose Coisman
Cathy Eckers
Travis Grooters
Dori and David Holzinger
Deborah Jeanquart
Tammy Kroll
Thomas and Suzanne Kuffel
Connie and Chris Larsen
Roger and Sara Pinkert
Bill and Sonja Polster
Rachel Pratt
Belinda Richard
Debra Swanson
Jim Telstrom
Jolene Wilson
Cliff Wind
---
In Memory Of
Tom Austad
Anonymous
John Collins
Catherine Tilden
Mary Dorchester
Philip Dorchester
Ruth G. Edwards
Lee and Susan Basten
Coggin Edwards Heeringa
Jane Guthrie
Howard H. Hintze
Lori and Brian Holtz
Curt and Evelyn Mingle
Eric and Dee Paulsen
Jan Olson
Carmen Youra
Bud Evenson
Carol and Barry Hobson Family
Jim and Valerie Maki
Leif Everson
Bill and Sonja Polster
George Gay
Jim and Valerie Maki
Hervey and Anne Hauser
Gerry and Denice Bernstein
Claire Hogan
Eric and Dee Paulsen
Elymira "Elly" LeRoy
The Hobson Family
Omer Mickelson
Anonymous
Leroy and Claire Olsen
Susan Nelson
Herb Peterson
John and Janis Anderson
Suzanne and Tom Kuffle
George Pinney
Jim and Valerie Maki
Frances Ranson
Chris and Connie Larsen
Matt Scheinder
Dee and Eric Paulsen
Marion Schuster
Don and Coggin Heeringa
Jan Olson
Pete and Carol Schuster
Mary Walter
Eric and Dee Paulsen
Brian and Joan Wake
In Honor Of
Luke's Outdoor Classroom
Tim and Barb Graul
Sunset School Staff
Jeanne Barnard
In honor of Rebecca and Josh Kerwin
Brian Wake
Scott Wake
John and Carol Zago
Joan Wake
Scott Wake
John and Carol Zago
Thank You To
Funding for Phase I Archaeological Survey
Fran and Paul Burton
The Raibrook Foundation
Don and Coggin Heeringa
MMG Foundation
Funding for the Education Space Project
Peter G. Horton Charitable Remainder Annuity Trust
Meissner Family Foundation
Friends of Crossroads
Herb Kohl Charities
Very Special Thanks to:
Little Hoppers
Ministry Door County Medical Center
Master Gardeners of Door County
Door County Advocate
Door County Daily News.com
Door Peninsula Astronomical Society
Peninsula Pulse
WDOR
UW-Oshkosh Microbiology Department
---
Running Green/Walking White
Running Green for Crossroads 2013 was, in all ways, a success. The run was conceived as a way to introduce the concepts of sustainability to the community. But we are becoming increasingly aware that exercise in nature has significant mental health benefits. But what about exercise in winter?
For years, as a part of their wellness initiative, Ministry Door County has underwritten year round  trail maintenance at Crossroads. Friends of Crossroads promoted winter exercise by loaning skis and snowshoes to the community – free of charge – on Sunday afternoons.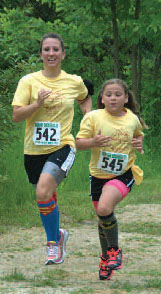 Obviously, we don't want people to walk on ski trails, so we also have groomed a designated hiking trail. But that trail was long and for the most part, traversed upland fields and meadows. In fall these areas are stunningly beautiful, but on blustery winter days, we have our own frozen tundra.
To make winter walking more accessible, we have now re-designated Ole's Trail (between the parking lot and the Astronomy Campus) as a year-round walking trail. And with funding from Ministry and labor provided by Boy Scout Troop 222, we have created a trail through the woods, just east of our new maintenance building. This year, Walking in a Winter Wonderland may be your path to wellness.
Thank you to our Running Green sponsors!
Presenting Sponsor
Ministry Door County Medical Center
Major Sponsors
Evergreen Nursery
Sturgeon Bay Utilities
Friends of Crossroads
LAKESHORES Landscape and Design
Red-Osier Dogwood Sponsor
Animal Clinic of Sturgeon Bay, LLC
Northern Door Pet Clinic
Whitetails Unlimited, Inc.
Cellcom
Rural Mutual Insurance, Del Herrbold
Anytime Fitness
DBA Tadych's Econofoods
Pinkert Law Firm LLP
Black-eyed Susan Sponsor
Dr Shaun and Sue Melarvie
Heidi and Dan Tomaszewski Family
Ross Wealth Management
Bluefront Café
State Farm Insurance Companies
Target
Associated Bank
Insurance Center of Sturgeon Bay
Bay Pharmacy
Wally and Kathy Laba
Jim and Val Maki
Deb Whitelaw-Gorski
Gretchen Schmelzer
Natural Creations
Wal-Mart
Tim Graul Marine Services
Award Donations
Evergreen Nursery
Keith Carter of Clay on Steele
Henschel Farms
Jim Maki and Deb Whitelaw-Gorski
LAKESHORES landscape and design
Wienkes Market
Door Prizes
Door County Natural Creations
Dan Swanson
Keith Carter of Clay on Steele
Sturgeon Bay Utilities
Refreshments
Schopf's Dairy View Country Store
Lautenbach Orchards
The Black Walnut Guest House
Medical Services
Ministry Door County Medical Center
Radio
Thank you to WDOR and Eddie Allen for hosting us on his talk show.
Thank you to Bob and LuAnn Desotelle, Mike and Kim Herlache, and the Ostrand-Harding Families for sharing their land with us and making the 10K trail run possible.
Expand article
---
Archaeological Survey at Crossroads
We know that Native People have visited the land we now call Crossroads since the end of the last Ice Age, and we always have had the feeling that at some time, prehistoric peoples may have lived on the preserve. Multiple springs would have been an attractive feature.
So strong was our belief, that before we paved our parking lot and built the Collins Learning Center, we conducted an archaeological survey under the direction of Dr. Victoria Dirst. A shovel testing regimen was conducted between the parking lot and Big Creek, and it revealed some artifacts which indicated a Middle to Late Archaic Native American component.
As they looked forward to reforestation and trail building projects throughout the property, the Board of Directors of Crossroads agreed that it was appropriate to survey the rest of the land. We obtained a proposal from Midwest Archaeological Consultants of Sturgeon Bay for a Phase I Intensive Archaeological Survey of the Crossroads property.
Through grants and gifts, we obtained enough money to start the project…but not enough to survey the entire property. So, we had to ask ourselves, should we just grid the entire land and work until we run out of funds? Should we survey the areas where we suspect evidence of habitation is most likely?
Or should we survey the specific areas that are slated for disturbance?
Last spring, as a part of their Earth Day Celebration, the students of Sunrise School planned to plant trees in the area east of the Astronomy Campus. For that reason, the Crossroads Board decided to have an archaeological survey conducted upon that parcel before we established a forest, and then to use the remainder of the funds to survey other areas around Big Creek.
The archeologists found small flakes of stone up on the high ground in the southeast corner of Crossroads that could be consistent with a very short-term occupation site, but they did not find evidence of a more permanent campsite/village. So the Sunrise students went ahead and planted 380 trees.
Early in September, archaeologists from Midwest Archaeological Consultants began the preliminary portion of their project by shooting a N/S line with a transit with which to form a grid along both sides of the creek corridor.
This October, we plan to implement a shovel testing regimen along the grid in a systematic attempt to locate prehistoric sites. This is when our outreach/educational efforts will begin, and we want to include all interested learners. Specific dates will be weather-determined, but if you would like to participate, call 746-5895 to sign up for a time, or "Like us" on Facebook. We will post our schedules as soon as we know them.
Expand article
---
Astronomy Day 2013
The Moon
Saturday, October 12 2:00-4:00 PM
Family Activities (includes daytime moon viewing)
Collins Learning Center and the Astronomy Campus*
7:00 PM – Presentation
"New Theories on the Origin of the Moon"
Collins Learning Center Featuring Dr. Ray Stonecipher
8:00-11:00 PM
Viewing of the Moon and Night Sky Leif Everson Observatory and StarGarden*
Free and Open to the Public.
* Please use the Utah Street Entrance to reach the Crossroads Astronomy Campus
---