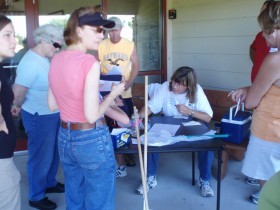 Last week, four monarch butterflies were sighted at Crossroads. Four is a pathetically small number in late August when local populations of the orange and black butterflies should be at their peak. Bay the end of the month, we should be experiencing the annual fall migration of the monarch, so on September 1 at 1:00,  the Northeast Wisconsin Audubon Society will bring  Ann Shebesta, The Butterfly Lady of Mishicot, back to Crossroads for, we sincerely hope,  an afternoon of monarch tagging.
If the monarchs continue to be sparce, and that seems to be the trend throughout their breeding range, participants in the program will still be adding to a body of knowledge about monarch biology. To be honest, we expected low numbers. Last June, Crossroads was priviledged to host Dr. Lincoln Brower, the internationally renowed monarch researcher. His presentation was fascinating, but depressing.
Dr. Brower explained that a record low of 60 million monarchs were found in the monarch wintering area last winter. That may sound like a lot of butterflies, but in an average winter, an estimated 350 million monarchs roost in specific groves of spruce trees  in a mountianous region of Mexico.
Butterfly researchers speculate that the extreme heat and drought severely decreased populations of monarchs in the lower Midwest and Gulf states. Usually, monarchs  actually gain weight during their journey south, for they stop and feed on wildflowers all along the route. But last summer, most nectar-bearing flowers in the south had shriveled and died. Apparently, many monarch did not complete their migration and those made it to Mexico  may have lacked the fat reserves to make it through the winter and to  breed in the spring.
This year  in Door County, spring came quite late so  it is possible that the monarchs arrived before the milkweed plants had started to produce leaves. Monarch may  just have flown over and bred farther north.  Also in 2012, it appeared that we had parasites attacking  many of our immature butterflies. Perhaps parasites destroyed the first hatch this year. Another possibility is that some butterflies did lay eggs, but July was so cool that the caterpillars developed more slowly than usual.
Maybe with the warmer weather of August, more caterpillars will develop. Or not. Usually, out milkweed plants are crawling with monarchs caterpillars. And thanks to generations of kindergarten students (who take their responsibility of spreading milkweed seeds very seriously), we have thousands of milkweed plants at Crossroads, but no evidence of caterpillars.
The Sunday afternoon program will include  an indoor introduction on the Monarch life cycle and Ann Shebesta will distribute  nets  so  participants can catch and tag monarch. She will record and submit the data. If the data is that we caught no butterflies in an area that usually yields at least 100 specimens, that information will be useful. Participants may bring their home-reared monarchs for tagging if we have enough tags left, and it look like we will have more than enough tags. If monarchs are not at Crossroads, the group will catch (and release) other butterfly species. The free program will be held rain or shine.   Meet in the Collins Learning Center.
While monarchs seem to be in serious decline,  invasive species are doing amazingly well. Phragmites–which looks like grass on steroids– is taking over our shorelines, lining our roadsides, and choking our ponds and inland lakes. Phragmites quickly destroys the habitat for native aquatic plants and for animals and birds.
On Friday, August 30 at  2:00.  DCIST, the (Door County Invasive Species Team) will present the   August Phragmites Symposium     Join the members of DCIST  to learn all you need to know about this invasive grass. The pymposium will include presentations by Stacy Schumacher (Wisconsin DNR) on the mapping of invasive species and the differences between native and non-native Phragmites, and Kari Hagenow (DCIST) will talk about control options for Phragmites. Also speaking will be Mathew Peters, a graduate student from the University of Wisconsin-Green Bay, to give an overview of his research "A Comparison of Ecological Services between Native and Invasive Phragmites australis in Door County Wisconsin." Free and open to the public.