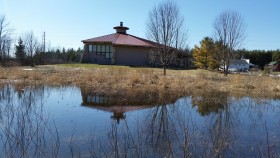 The Spring Peepers are still peeping at Crossroads which makes us very happy. For starters, we like spring and we like frogs.  But this year, frogs have  a special meaning for us.
We are raising money for a much needed

 

expansion and

 

improvement of

 

our parking lot, and to tell the truth, we still do not know what the entire cost will be. But

 

in order to raise the start-up money—to fund an archaeological survey, to hire an engineering firm and

 

so forth, we needed to raise a lot of money in a short amount of time.
So an anonymous couple offered to fund a Challenge Match for a limited time—say from the first peep of a spring peeper until the frog chorus ends. In April… the first month of this challenge… we

 

raised $20,000 which means we have realized $40,000. Wonderful! We are ever-so grateful, but this sum nowhere near enough for the whole project.  So 

 

we hope that frogs

 

continue their enthusiastic chorus

 

for at least another month or more,  and that donors keep sending checks (or use PayPal or even send us dollar bills.)
In some parts of the United States, "frogskin" is a slang term for a dollar bill. So you could say this is all about "frog skins."

  A

nd really,

 

it is.

 

The skin of frogs is unusual because frogs lack scales and fur.

  

Frog

 

skin is quite thin, but that is one of the things that makes it special.

 
Frog skin can shed and absorb water.

   

That is why we chose frogs

 

to symbolize our parking lot project.

 

We are planning an engineered lot with special permeable pavers which will absorb and shed  water to a forebay/retention pond system designed to protect the quality of the  water reaching our wetlands and groundwater.
Having ermeable pavers will be good for our parking lot and visitors,  but having permeable skin has some drawbacks for amphibians. If water is polluted, frogs can absorb the contaminants through their skin. This can cause deformities in subsequent generations of

 

frogs.

 

So part of our motivation for  managing storm water runoff is to  keep pollutants out of our ponds and wetland areas  so our frogs will be able to produce healthy offspring. (This also is a reason we avoid using chemicals on our lawns.)
But back to fundraising—how long will the frog chorus last? Like almost everything here at Crossroads, it will depend on the weather.  And what will we count? Toward the end of the breeding season, some males frogs continue to sing from their summer  homes in the treetops. We'll count that! And appreciate  that our forests are the habitat for these creatures. Tree frogs such as Spring Peepers are

 

extremely important (albeit

 

underappreciated ) predators of forest insect pests.
Of course, the whole reason for the frog chorus is breeding,

 

and frog eggs hatch after  two to three days.  So we assume that our ponds are now full of tadpoles, voraciously  feeding on algae and slime.

 

After going through the process of metamorphosis, if all goes well,  the froglets should emerge in late May or June.

  

We hope our little ponds don't dry up before the a new generation of frogs mature, just as we

 

hope our funding stream never dries
The younger generation of humans–our children– will be visiting Crossroads for school field trips for the rest of the month. You remember the saying "make every day Earth Day?" That's Crossroads in May, but we will offer naturalist-led hikes for the general  public as well. Sunday, May 14 at 1:00, hike participants will enjoy marsh marigolds along Big Creek and on Monday, at 11:00, hikers will visit the small woodland at the Canal Road corner of the Ida Bay Preserve.
Crossroads at Big Creek is a community-supported preserve welcoming learners of all ages to programs in science, history and the environment.

 

The Collins Learning Center, located at 2041 Michigan,

 

is open 2:00-4:30 daily and during scheduled events. During the construction, to reach the center, take the highway detour to County T (Alabama Street) cross the highway to Big Creek Road and turn right. Proceed to Lily Bay Road and turn right. Lily Bay Road will merge with Michigan and the Crossroads entrance will be on your left.
To reach the Astronomy Campus and Ida Bay Preserve, Utah Street currently crosses  the highway, or you can follow Memorial Drive under the bridge, and turn on 18th Place to reach Utah Street. The Astronomy Campus is at the Cove Road intersection, 2200 Utah.  To reach the Ida Bay Preserve, follow Cove Road. (or from the north, follow Buffalo Ridge Trail)
Sunday, May 5                                                                                                                                                                                                                           1:00 Hike: In Search of Marsh Marigolds                                                                                                                                                                               Big Creek is always interesting, but in spring, it particularly lovely as marsh marigolds define the banks. Meet at the Collins Learning Center. About an hour. Free and open to the public.
Monday, May 16
11:00

Hike: Woodlands at Ida Bay                                                                                                                                                                                            This hike will explore the small deciduous forest at the Canal Road corner of the Ida Bay Preserve. Meet at the Parking Lot at the Canal Road/Buffalo Ridge Trail intersections.  About an hour. Free and open to the public.