Fish Report: The fish run has stopped (for now, anyway.)  Plenty of dead suckers to observe.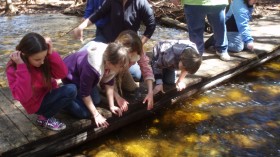 Finally, peeping can be heard  at Crossroads at Big Creek. Near Hauser Pond, the evening are becoming quite noisy.
The extremely loud sounds are coming from tiny frogs…which, for fairly obvious reasons, are call Spring Peepers. About an inch from snout to vent, these frogs are for many, the herald of spring. …the signal that the forests are coming alive.
All winter, adult peepers hibernated underground in the forest, often far from ponds.  Strange as it sounds, their little bodies actually freeze solid, but their cells do not rupture and once they thaw, they come to life and seem compelled to find mates. Instinctively, they know that eggs must be laid in water….a pond or a spring woodland puddle.  It just has to be deep enough for tadpole development.
Once they find their pond, the males climb up on a piece of grass or emergent vegetation or even low hanging tree limbs. The are able to stick onto plant parts thanks to sticky pads on their toes. And from this perch, they sing to attract  mates.  And when the mating occurs, the eggs drop directly  into the water.
A male peeper sings by blowing up what appears to be bubble gum, but what actually is his throat. A Peepers puffs up his  throats to almost equal his body size. Vocal chords are located in the throat.
To sing, (and the song  is music to my ears, and irresistible to female peepers)   the frog forces air between his mouth and lungs. The air produces sound which  is amplified by the puffed up throat.
Even amplified, the peep of one peeper is not very loud. But the sound of one tiny frog is amplified to enormous volumes by the sheer number of frogs in a pond.
Volunteerism is like that. One volunteer, working  with total heart and energy, can only do so much. But one person's efforts, amplified by sheer number, can do amazing things. Our  group is called Friends of Crossroads. This group of volunteers meet the first Monday of each month at 6:30 to plan events, to organize tasks, and to serve as a focus group for Crossroads. This month, the group will be planning summer project and programs and they would welcome more new members.
Individuals of all ages and abilties are invited to volunteer at Crossorads as a part of the United Way Day of Caring.  Indoor and outdoor tasks ranging from organizating the kitchen to planting trees will be accomplished between 9:00-noon, and all volunteers will receive a complimentary breakfast, courtesy of McDonalds  and a great LIVE UNITED T-shirt.
Running Green for Crossroads, scheduled for June 22, is looking for volunteers. And organizers tell us that Run Volunteers are looking for early entry forms as well. It really helps the committee order shirts, prizes and refreshments when they have firm numbers, plus, pre-registration saves you  money. Those who register before June 12 receive a signifacnt price break. Visit http://www.crossroadsrun.com/ for information and registration forms.
Even the Door Peninsula Astronomical Society is looking for volunteers to help with summer astronomy outreach programs. This group will hold its May General Meeting at 7:00 May 7 at the Stonecipher Astronomy Center. DPAS invited vistors to enjoy a screening of Cosmos Episode #2 followed by a review by Professor Ray Stonecipher and a short progam about"Galileo's Burial Site." by Dave Luhrs.  Refreshments will be served.