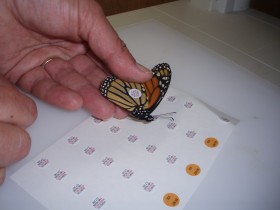 As is our tradition, Crossroads at Big Creek will offer a Monarch Tagging Event on the Sunday before Labor Day. Guest Naturalist Karen Newbern will present a free  program at 1:00 on Sunday, September 6 in the lecture hall of the Collins Learning Center. Next,  participants will move into the Lower Level Learning Space receive instruction and nets and then spread into the wildlflower meadows to capture, and tag and release the butterflies. We are hoping the timing is right to match the peak of the annual monarch migration.
Because monarchs migrate from Upper Midwest of the U.S. and Canada to Mexico each fall, these butterflies have been recognized by a number of conservation groups as a species "in need of close monitoring and protection" throughout their amazing range.  So  researchers from Canada, the United States and Mexico collaborate with citizen scientists involved in  projects  including  the one at Crossroads to monitor  Monarchs. If the orange and black butterflies are thriving, we know that environmental conditions are good.
Unfortunately, Monarchs are in decline, as are domestic and wild bees, and other insect pollinators.
 Several years ago,  in a lecture at Crossroads, the internationally renowned Monarch expert Dr. Lincoln Brower (who  has studied the Monarch overwintering site in Mexico since 1977)  explained,   "The dwindling Monarch butterfly numbers in the winter residence  is ominous.
It is the continuation of a statistically significant decrease in the monarch population that began at least a decade ago."  And the wintering areas in Mexico are being seriously degraded.
"But to blame the low numbers of Monarchs solely on what is happening in Mexico is misleading," Brower continued. "The historical decline  has multiple causes. All three countries need to face up to the fact that it is our collective activities that are killing the migratory phenomenon of the monarch butterfly."
This

July and early August, we observed many female Monarchs  fluttering around milkweeds looking for places to lay their eggs, and we watched males cruising over the milkweeds looking for females with which to mate.
But the Monarchs that emerge from their chrysalides in late summer  are somehow programmed not to mate until next spring. The males are not looking for females…and the females are not looking for milkweed on which to lay their eggs.
Instead, they are all looking for nectar-rich flowers on which to fuel up for their migration  to Mexico. Here at Crossroads, blazing star (liatris)  and Joe Pye Weed seemto be the wildflowers of choice, but New England asters are just starting to bloom and the migrating insects love them.
Monarch butterflies  are able to migrate with very little effort. They rise on thermal updrafts , then glide for miles.  Butterflies which land  Crossroads and other natural areas in Door County will  find many flowers on which to fatten up for their journey south. They will have less luck as they

 

glide over the agricultural areas of the Midwestern states. It used to be that the monarchs weighed five times more when they arrived in Mexico then they did when they left their breeding areas.

  Now,  because of the intensive agricultural practices in the Midwest have practically eliminated wildflowers, Monarchs

are lucky if they have enough stored fats to survive the winter.
You like Monarchs? Do them a favor. Wait a few weeks before mowing wildflowers like goldenrod and asters. Quite frankly, I find flowers prettier than cut grass anyway, but for migrating butterflies [and hummingbirds], wildflwers provide fuel.  Remember, w
hile they travel,  IF and only if  they can find flowers on which to nectar, monarchs take in more calories than they burn off. The food stored in their bodies will keep them alive as they rest through the winter and  energy reserves enough to fly north to the Gulf states in the spring.
How do you tag a butterfly? It's just like putting on one of those stick-on name tags at an event, except that butterfly tags are tiny…. about half the size of a dime, and they have a special adhesive designed for insects. Join Karen Sunday afternoon and she will demonstrate  how it's done.  Crossroads  and the NEW Audubon Society will provide the nets .
Monarchs Tagging is not the only Labor Day Weekend tradition  at Crossroads.  While learners of all ages  are out tagging butterflies, our friends in the Door County Historical Society are hosting an Antique Auto Show in the Heritage Village. The Cherryland 'A's will have their meticulously restored cars on display. At 2:15, in the lecture hall of the Collins Learning Center, Arvid Anderson will offer a PowerPoint presentation explaining how to restore an antique car. 
One can work up an appetite chasing butterflies and/or  admiring vintage vehicles, so the members of the Door County Historical Society will be selling ice cream in The Village to raise funds for the upkeep of the buildings.
On Labor Day, the Collins Learning Center will be closed, but a  free hike will be offered at the Crossroads' Ida Bay Preserve. Meet at the parking lot at the intersection of Canal Road and Buffalo Ridge Trail at 10:00. Participants will visit the hemlock forest and the Ledge. Free and Open to the public.
The Friends of Crossroads September Meeting will begin with a Cookout at the Council Ring to enjoy fellowship and officially meet and welcome  Crossroads's Facilities Manager, Rich Propsom. Meat will be provided. Bring a dish to pass and a friend. New friends will be more that welcome.
Crossroads at Big Creek is a donor-supported preserve welcoming learners of all ages to programs in science, history and the environment. The Collins Learning Center, located at 2041 Michigan in Sturgeon Bay, is open 2:00-4:30 and during scheduled events. Trails at Crossroads, Big Creek Cove and the Ida Bay Preserve are free and open to the public.