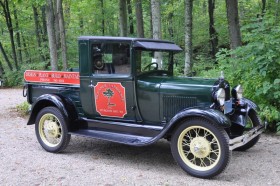 In the past 80 years, the progress in vehicle technology  has been nothing short of amazing.  In 1928, Henry Ford introduced the Model A. Less than a century later, NASA landed the Rover Curiosity on Mars. The programs this week at Crossroads will highlight some of the comparisons.
As a part of the Sunday in The Village Series, the Door County Historical Society will host a Antique Car Show featuring the Cherryland A's Model A Club vehicles. On Tuesday evening at 7:00, the Door Peninsula Astronomical Society Meeting will feature a lecture called "Ice in Space" at the Stonecipher Astronomy Center.
And in a way, the search for water is one of the few things that haven't changed over the years.  Model A's were amazingly reliable cars, but in extremely hot weather or on hilly terrain and  high altitudes, drivers needed to have a source of water in case their radiators started to boil over. And of course, the passengers could get pretty parched too.  Humans absolutely must have water to survive.
When thinking about space exploration, NASA similarly considers that absolute need for water for humans and presumably, for  life as we know it. Earth is such a remarkably special place because it has liquid water on much of its surface. Other planets in our solar system do not. But many places in space  have ice.
If humans are ever to leave our very special planet, success would be most likely on a celestial body with ice. That's why tNASA sent the Deep Impact probe to the moon. That is why Curiosity is looking for ice on Mars. That is why asteroids and moons of other planets are extremely interesting to researchers.
Water… water in significant quantities… simply could not be shipped into outer space. But water  would be required for human consumption and to grow plants.  Ice in space would supply this need.
Another reason that ice is interesting to NASA is that water is made up of oxygen and hydrogen, and water molecules are easily (really easily—I did it for a science fair project in fifth grade) split by electricity. Solar collectors could produce electricity as well in space as our two solar arrays  do at Crossroads. The need for oxygen is obvious—humans need oxygen to breathe, plus oxygen is an important common component of rocket fuel.
Could there be life in ice? I attended a conference of the Wisconsin Space Grant Consortium last week and a representative from NASA gave the keynote lecture. So when he invited questions, I got brave enough to ask,  "Could there be life in ice?"
Well, certainly not complex life. He explained  that the good folks at NASA (who apparently have a collective sense of humor) define complex life "as chipmunks and above." That said, even primitive life need to undergo chemical reactions, and these  reactions usually require a temperature above freezing.  Perhaps, he finally conceded, there might possibly be very primitive life in saline pockets in the ice, but nobody really thinks so at this time.  Interested? Attend the DPAS meeting on Tuesday.
Thursday, we bid farewell to the Beach Research Team which has been using our laboratory this summer, and for the past few years. They will return to the University of Wisconsin-Oshkosh to analyze the data they collected and we are eager to learn the results of their research on the efficacy of beach grooming.
This also is  the final week for our Family Programs. Once schools are back in session, The Historical Village at The Crossroads will be open Fridays, Saturdays, and Sundays from 1:30 to 3:30. The Collins Learning Center will go into Fall Hours which 2:00-4:30 daily. The Collins Learning Center will be closed on Labor Day, but the trails will be open. Crossroads is located at 2041 Michigan just east of Highway 42/57 in Sturgeon Bay.
Wednesday, August 29 1:30 Family Program: The Chapel    
Families are invited to visit the lovely Chapel at the Crossroads and learn  hymns and stories about life in 1900. Meet at The Chapel. Free and open to the public.
Thursday, August 30, 1:30 Family Program: The Escarpment
Families will explore the "caves" in the Escarpment Display in the Collins Learning Center as they learn about the geology of The Niagara Escarpment. Free and open to the public.
Sunday, September 2, 1:30-3:30 Sunday at the Village
In addition to touring the buildings, visitors will enjoy seeing the beautifully restored cars of the Cherryland A's Model A Club. Free and open to the public.
Monday-September 3–Closed for the Labor Day holiday.
Tuesday, September 4, 7:00 Meeting of the Door Peninsula Astronomical Society Visitors always are welcome at meetings of the DPAS. Programs include the Mission of the month and the illustrated lecture "Ice in Space". Refreshments will be served. Meet at the Stonecipher Astronomy Center. Please use the Utah Street Entrance to Crossroads.