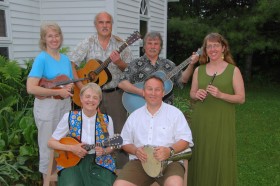 History is so much more than memorizing dates or sorting out the wars between nations. At Crossroads at Big Creek, we often focus on history, but we are more interested in the lives of the people–how they lived, what they believed, what they cared about. To learn that kind of history… to really learn about the our ancestors and people of other countries, one can sometimes learn more from music than from a history textbook.
For that reason, on Sunday, September 16 at 2:00  Crossroads is delighted to host the a concert of group Global Achord. This ensemble of local folk musicians frequently changes personnel, and consequently, instrumentation, but as their clever name suggests, but they always present an eclectic selection of world music. This concert is made possible by a grant from the MMG Foundation.
Weather permitting, we hope to hold the folk music event in the rock garden outside the Collins Learning Center. But like Goldilocks, we prefer conditions for an outdoor concert to be just right. So if it is too hot or too cold or so windy the music won't stay put on music stands,  the concert will be held in the climate-controled comfort of the Collins Learning Center. This concert is made possible by a grant from the MMG Foundation.
Crossroads visitors  also will want to bring a little cash Sunday afternoon because the Door County Historical Society will be holding  a "Craft and Produce" Market as a part of their Sunday in the Village series.  More than 20 booths will be set up in The Historical Village at The Crossroads, so as in town markets of yesteryear,  visitors can shop local from 1:30-3:30 and explore the historic buildings as well.
Shoppers/concert-goers are encouraged to bring folding chairs, blankets or cushions if they prefer not to sit on the rocks. (After all, this is not a rock concert. It's folk music.)
The American Heritage Dictionary defines folk music as "Music originating among the common people of a nation or region and spread about or passed down orally, often with considerable variation." and world music as  "music from cultures other than those of Western Europe and English-speaking North America, especially popular music from Latin America, Africa, and Asia."
Those definitions are not all that satisfying, though they do rather nicely describe the music Global Accord plays. Some will say that folk music has no composers… that it came directly from  the folk…which is rather silly. Somebody composed the music, though admittedly, in much the way rumors get mangled, songs undoubted evolved through the years, perhaps beyond recognition. It  probably would be more accurate to say that folk music includes those songs which were so loved by the "folk" that they were sung again and again, and that they were passed on through generations.
And just like popular music of our time, many folk songs were about relationships and holidays, but for uneducated people, songs were also a way to pass on national or cultural history, or to rally the faithful in partisan disputes.
Saturday evening, September 15, starting about 8:00, the Door Peninsula Astronomical Society will welcome visitors to Crossroads' Astronomy Campus for the September Viewing Night. Each month, DPAS selects the Saturday evenings closest to the new moon so that celestial objects will be most easily observed.  Patient and helpful amateur astronomers will have their own telescopes set up in the StarGarden and will be happy to introduce beginners to the wonders of the night sky. Please use the Utah Street Entrance (at the Cove Road intersection) to reach the StarGarden.