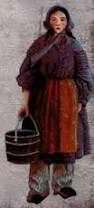 The Door County Historical Society brings
a
ward-winning theatrical and opera costume designer Karin Kopischke, of Fish Creek, Wisconsin and Professor at Lawrence University in Appleton, WI to the Collins Learning Center on Sunday, June 29 at 2:00.
She will use the rendering techniques she has honed over more than 20 years of designing costumes for the finest theatres and opera companies around the country. Kopischke's much-lauded costume renderings are particularly effective in using rich historical detail.
In this program the strong, accomplished women of Door County's early days will be highlighted. Though perhaps forgotten from our history, these early Door County women still inspire and provoke further inquiry into their lives. Program begins at 2 pm in the Collins Learning Center. Free and open to the public.