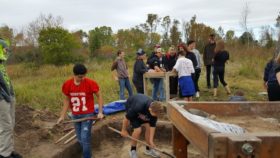 As long as Crossroads can find funding, the Fall Archaeological Dig will be a rite of passage for area middle school students.  Thanks to this annual activity, we have located and registered Native American archaeological sites spanning 2000 years of occupation on the three Crossroads properties.
During the past four years, students from Sturgeon Bay and Sevastopol, under the close supervision of the professionals of Midwest Archaeological Consultants, have excavated a previously unknown chapter of Door County history.  Using rigorous archaeological excavation techniques and documentation, students have unearthed arrowheads, stone knives, scrapers, fire-cracked-rocks, thousands of pieces of chert, pottery and copious quantities of animal bones and teeth. 
Ours are not the only prehistoric sites in Sturgeon Bay.  In 2003, an excavation was conducted on Sturgeon Bay's Westside  at the Cardy Paleo-Indian Campsite.  The Cardy site confirmed that native people have been living and hunting on the peninsula for at least 11,500 years.  That excavation revealed projectile points called Gainey Points which were sophisticated and beautifully shaped arrowheads. 
Current evidence indicates that the site located on The Cove probably was a seasonal campsite dating back at least 1000 years though some evidence suggests perhaps it could be pushed back 3000 years.  The site at Ida Bay consists of a North Bay Culture approximately 1600-2000 years old, as evidenced by pottery and projectile point styles.  Soon we will receive C14 dates from charcoal samples so that we can assign a more accurate date on the Ida Bay site.   But I was surprised that the projectile points the middle school students found seemed small and crude–certainly not as impressive as the much older  Grainey Points
Fortunately, one of our archaeologists is also a skilled flint-knapper who will be demonstrating how raw stone can be fashioned into prehistoric tools.  He doesn't just make stone tools.  He also knows a great deal about how stone tools changed through time and the cultural, economic and environmental inputs that acted on specific forms.  When I asked him why the older points were larger and more carefully crafted, he replied, "Climate change." And he was serious.
Back when people were inhabiting the Cardy Site, the most recent Ice Age was just ending. The land must have resembled the tundra and consequently, mammals were huge—caribou, muskox and even wooly mammoths.  Long spears capped with meticulously manufactured projectile points launched with a throwing stick called an "atlatl" would have been required to bring down such large prey.
The people who hunted along Big Creek 2000 years ago were more likely to be eating small mammals and fish as well as deer and bear.  A projectile point designed to kill smaller prey did not need to be carefully fashioned.  From the size and shapes of artifacts and from bone fragments, we can speculate that two thousand years ago animals were smaller and that the climate had become warmer.
This year, the dig will be at The Cove, at the mouth of Big Creek just east of the little bridge on Utah Street.  We encourage visitors to watch the students work, and listen to the archaeologists instruct them or adults can participate themselves on Thursday afternoon starting at 2:00. Please call 746-5895 to sign up for the adult dig so you too can travel back through time and look for evidence to answer perplexing questions such as what drew native people to this precise location on the landscape? what plants and animals lived there?  and as Lake Michigan and climate changed, what adaptations did the people make to survive?
The Educator Workshop on Climate Change has been postponed, but on  Monday, October 9, at 7:00, The Climate Change Coalition will bring Lee E. Frelich Ph.D., the director of the University of Minnesota's Center for Forest Ecology to Crossroads to  present the lecture, "How the Lowly Earthworm Becomes a Climate Villain".
While earthworms can be very beneficial in a garden, they actually are an invasive species in regions that once were covered by Ice Age glaciers. According to Frelich,  "Earthworms transform the response of forests to climate change by fostering warming and drying soils in summer, changing conditions for seed germination, disrupting symbiotic soil biota, and even increasing carbon dioxide levels because they eat leaf litter."  [Just an aside, worms can mess up archaeological sites too.] The  program is free and open to the public.
Crossroads at Big Creek is made up of three properties:  Ida Bay, The Cove, and the Big Creek Preserves. The Collins Learning Center, located at 2041 Michigan Street , is  open daily 2:00-4:30 and during scheduled programs.  The upgraded Parking Lot, restrooms and trails are always open.