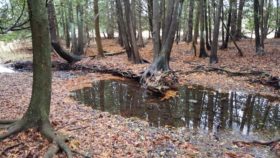 The trails at Crossroads at Big Creek will be open on Thanksgiving Day and throughout the Hunting Season, but the Collins Learning Center will be closed on Thursday so we can spend time with families.
Is it just nostalgia when I remember a family sitting down to a feast and everybody eating the same thing?
Last year, I had the opportunity to celebrate with some 40 members of our extended family—and my goodness, the menu varied. The very young had baby food, plus there were vegans, and some requiring sugarless or glutton-free diets….and then, one side of the family had some peculiar food traditions, while the other…it was complicated.
The food web for an aquatic habitat is far more complex than that of a diverse group of humans. The creatures that live in Big Creek have varied diets which change as they mature and with the season.
Understand that just within our preserve, the creek habitat changes dramatically. In stretches that receive direct sunlight, plants grow in the creekbed. In the intense shade of our cedar forests, the rocky bottom has some green slime, but plants are few and far between, which is problematic. Plants are the base of any food web because plants can take the energy of our Sun, and convert it to food energy.
So how does energy enter the creek ecosystem? How do plants get into the water?
In fall, leaves fall. Autumn leaves are extremely important as food in a stream (or even our new bio-retention pond). Soon after leaves fall in the water, many of the their nutrients dissolve, providing food for bacteria and fungi, which subsequently are eaten by insects and other invertebrates.
Dead leaves are too tough to eat this time of year, but in the water, the bacteria and fungi start rotting them and eventually, the soggy leaves become more palatable to many insects. Other insects, collectively and aptly known as "shredders," start chewing the leaves into little pieces, which then are consumed by different insect species known as "collectors." These are the insects that become food for the little fish that are eaten by the big fish and turtles and so forth. Of course, little fish often eat the fry of the big fish. Where there is biodiversity, it's complicated.
Years ago, Big Creek was straightened. (Improved?) So when Crossroads acquired the property, one of our first projects was to return the creek to its original meandering path. Over the years, trees have fallen to create snags so now, leaves pile up in at almost every twist and turn. With each autumn leaf-fall, our creek habitat becomes more productive. And the feasting starts each November—our human time of feasting and Thanksgiving.
The Friday Film on the holiday weekend is: Wisconsin Hometown Stories-Door County — a repeat, but we will screen the Wisconsin Public Television production so locals can share it with their families—especially those with Door County ties. By Saturday, most folks will really need to get outside, so we've planned a "Cabin Fever Hike" for 10:30.
The Friends of Crossroads, our volunteer arm, sponsors a number of projects, but perhaps the most fun is decorating the Collins Learning Center for the season. They welcome any and all to join in the Deck the Halls Party on Monday, November 27, starting at 5:30. Most participants bring a holiday snack to share….but that's optional. There will be plenty for all. Just come and be merry.
Crossroads is a donor-supported learning preserve made up of The Cove, Big Creek, and Ida Bay preserves. The Collins Learning Center, located at 2041 Michigan, is open 2:00-4:30 daily and during scheduled eventer. The preserves and restrooms are open, free of charge, 24/7. Hunting is not permitted in any of the preserves.
Thanksgiving Day—Collins Learning Center closed. Restrooms and trails open.