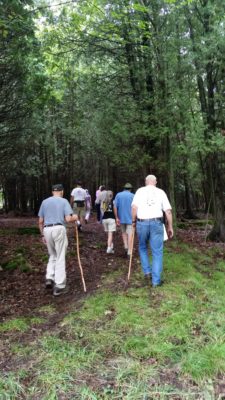 The Collins Learning Center
will be closed Wednesday, November 23 through Friday November 25
Crossroads at Big Creek , Inc. does not discriminate in any programs or activities on the basis of race, color, national origin, gender, religion, age, disability, political beliefs, or marital or family status. That said, it seems totally incongruous that we are planning a policy of segregation. 

But it's true.  When it comes to our winter recreation program, we are diligently working to create   "separate but equal" segregated trail systems for those who ski and for everybody else–those who hike, snowshoe, bicycle, walk dogs, etc.

At Crossroads, conflict over  trail use has been a problem, second only to meager snow, for more than twenty years. Skiers  are justifiably dismayed when hikers walk on and destroy groomed ski trails.
Hikers complain that the skiers have had three times as many designated trails, that the ski trails traverse more  interesting terrains, and that the hiking trails pass through brutally windy open areas.
Trail  segregation is the answer. This summer and fall, Crossroads Land and Facilities Manager Rich Propsom ( with help from Friends of Crossroads) has created two different trail  systems….one for those that ski;   the other, Multi-Use. While there are a few places–bridges and intersections– where the systems overlap, most of the trails are completely separate. And destination points, such as our Council Ring,  can be reached by either trail system.
This trail expansion was funded, in part, with a grant from the Door County Medical Center.
The first stage of this trail expansion was the removal of acres of invasive species, relocation of boulders,  and some sculpting of the land. Besides the obvious benefits of taking out non-native plants, the work revealed a rock ledge and opened up stunning vistas of the Big Creek Valley. The new ski trail will circle this area, offering interesting scenery for our skiers.
And to accommodate other trail users, existing foot trails have been enhanced and a number new trails have been cut through a variety of woodland habits. These new trails are both beautiful and wind sheltered.
During this usually balmy November, it's hard to even think about winter, but it will come. Once we have useful (enough to create a base) snow, the designated ski trails at our Big Creek Preserve will be groomed for classical and skate skiing. We will not be grooming trails at The Cove and Ida Bay preserves, but those trails are open for all uses.
Trails at our three preserves are free and open to the public 24-7.  Try a moonlight hike or ski  after snow has blanketed our forests and meadows. Magical!


Our winter equipment loan program will start.  Ski for Free is sponsored by Friends of Crossroads and the Silent Sports Alliance will start one the trails are groomed.   When  snow is adequate, equipment will be available, free of charge, on Thursdays, Saturdays, and Sundays from 1:00-3:30.
This week, sets of new  skis, boots and poles arrived at our Ski Distribution Center–a.k.a. The Maintenance Building.  This year, new winter recreation  equipment was with the proceeds of the Crossroads Trail Run.
Who can borrow skis and snowshoes from  Ski For Free?  Absolutely everybody. Crossroads does not discriminate for any reason.
Crossroads at Big Creek is an educational facility comprised of the Big Creek Preserve, The Cove Preserve, and the Ida Bay Preserve. The Collins Learning Center, located at 2041 Michigan, just east of the highway roundabout in Sturgeon Bay, is open 2:00-4:00. Because our properties are within city limits, hunting is not permitted. Trails are open and free.