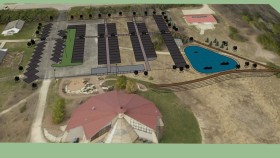 Since our inception, Crossroads has advocated for Dark Skies, but this year, but we have focused on responsible lighting as we planned

 

for the renovation and expansion of our parking lot, which, if all goes as planned, will begin this week.
Outside lighting is required to meet code and ensure safety, but our goal has been to utilize lighting technology with adaptive capabilities in which light intensity and duration can be adjusted based on light usage.
During the school year, almost half of our educational programs and most of our social events are held after dark.

 

Winter events are especially challenging with daylight reduced to nine hours and slippery conditions possible.
The demographic records of Door County suggest the 46%

 

of the

 

population is over 45. Ironically, bright lights create glare, decreasing vision by reducing contrast.

 

According to the AMA, "Glare from nighttime lighting can create hazards ranging from discomfort to significant disability. Improving light quality will enable our patrons of all ages to utilize our facilities in a safe manner.
Obviously, we are eager to decrease our energy consumption, reduce carbon emission, and save money, but we also are committed to preventing sky-glow (brightening of the night sky over inhabited areas) which is escalating in Sturgeon Bay.

 

We feel a special responsibility to reduce light spillage because of our proximity to the Leif Everson Observatory .
The lot is also near

 

several ponds and we know that little frogs (and other wildlife) may be adversely affected by light pollution. Photo-period (hours of daylight) stimulates breeding behavior such as "spring peeping". Artificial (especially blue spectrum emission) light has the potential to interfere with the circadian rhythms of wildlife and humans.
While we are still working out details, we plan to install LED luminaries with a warm or neutral color temperature which, current research indicates, has fewer known

 

adverse environmental and human impacts. The luminaries will incorporate shields plus motion/light/timing devises to effectively manage the intensity, extent and duration of illumination to provide a safe level of light while avoiding excess light spillage or energy use.