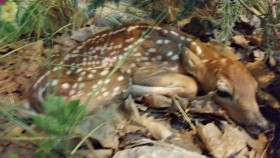 One of the joys of hiking at Crossroads—at our original preserve, the Ida Bay Preserve, or the trail to Big Creek Cove, is that this time of year, you might possibly spot a very young fawn….still dappled with delicate white spots
Reference books tell us that fawns are born with 300 spots, give or take. I have no reason to doubt that number. We do have a mount of fawn in our Wisconsin Wildlife Exhibit, so anyone who would like to check the accuracy is welcome to come by and count—or just enjoy the exhibit  (in the lower level of the Collins Learning Center) which is open noon to 3:00  during the summer months.
In summer, large trees form a canopy. Consequently, 

 

the fallen leaves and pine needles

 

on the

 

forest floor are in deep shade, even when

 

the sun is

 

shining brightly.

 

But when the breeze wafts through the tree leaves, little flecks of sunlight dapple the ground. A tiny fawn with brown coat and white spots seems to disappear. 
Spots also are camouflage. The popularity of "camo" clothing should make this concept familiar. "Camo" works because splotches of color trick the eye into perceiving small shapes. It works best if the splotches match the background, which is why desert camo is the color of sand while forest camo comes in shades of green and brown like leaves and pine needles.
If you see a deer in the woods, you recognize it right away because it is shaped like a deer. It is more difficult to see a fawn

 

because your eyes do not perceive the deer shape. Instead, you see white dots on brown on a forest floor which is brown with white dots.
Hiding is important to helpless fawns because they are the prey of many creatures. You'd think the predators would just smell them, but amazingly, fawns are born without a scent. As long as they hold perfectly still, predators simply do not sense them. Motionless, they are next to invisible. Come see, or not see, for yourself.
Three free naturalist led hikes will be offered—one at each of our properties. Odds of spotting a fawn are not good, but there will be plenty to enjoy

 

on each of the hikes.
Crossroads at Big Creek is a community-supported preserve welcoming learners of all ages to programs in science, history and the environment.  The Collins Learning Center, located at 2041 Michigan,  is open 1:00-3:00 daily and during scheduled events. During the construction, to reach the center, take the highway detour to County T (Alabama Street) cross the highway to Big Creek Road and turn right. Proceed to Lily Bay Road and turn right. Lily Bay Road will merge with Michigan and the Crossroads entrance will be on your left.
Thursday, June 23
 10:00 Dock Walk
Join the naturalist for a one hour ramble to our new dock and observation platform. We never know what we will see, but we will see flowers and wildlife. Utah Street should be open, turn right onto 20th Place and park in the grass lot off the first driveway to the right.. Free and open to the public.
Sunday June 26
 1:00 Crossroads Preserve
Join naturalist Joel Kaminski for walking tour of the original Crossroads Preserve. About an hour. Meet at the Collins Learning Center. Free and open to the public.
Tuesday, June 28
Join naturalist Joel Kaminski for a walking tour of the Ida Bay Preserve. About an hour. Meet at the parking lot at the intersection of Canal Road and Buffalo Ridge Trail.
Free and open to the public.