Trail Condition: Good with a few bare spots.  Groomed and tracked last Saturday.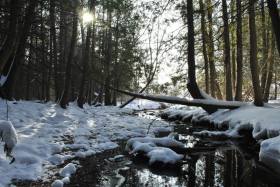 Big Creek is still running under the little bridge on Utah Street, but The Cove is frozen. The Bay is Frozen. And on Saturday February 28, the YMCA will hold a  Frozen Winter Carnival  from 4:00-7:00 at Crossroads.
 Tickets and details are available at the YMCA.The Y fundraiser will include a snowshoe walk, chili/soup dinner, a scavenger hunt, sleigh rides by Mayberry's Carriages, snowman building—you get the drift.  And because the event will be held at Crossroads and the Heritage Village at Big Creek, of course there will be an educational component inspired, aptly,  by 2013 Disney animated film
Frozen
 .
The film opens with a depiction of Norwegian workmen out on a frozen lake,  harvesting blocks of ice with special saws and tongs. That scene could have been set in Door County.  The animation accurately portrays the ice harvest which took place every winter on the Bay of Sturgeon Bay during the late 1800s.  Until about the 1890s, the ice trade was an important industry near Lake Michigan ports.
The raw materials—ice and sawdust—were available in profusion. And Chicago (which disposed of its sewage in the Chicago River and Lake Michigan)  would consume as much unpolluted ice for industrial (think: meat packing) and home use (think:  iceboxes)  as 700 Door County men could cut in winter and ship in the summer. Apparently, the cutters were required by law to leave an ice bridge between town of Sawyer (the West Side) and the town of Sturgeon Bay so Northern Door would not be totally cut off  from the rest of the world.
The "Door County Ice Age"  didn't last.  Once railroads spread through Wisconsin, Chicago enterprises could buy ice from inland lakes economically, while ice shipped on Lake Michigan had to be unloaded and carted to ice houses and then to  processing plants. Rails went right to the stock yards, so the huge demand for Door County ice melted away.During the Frozen Winter Carnival, Mike Madden and his cohorts will be on the white Village Green to demonstrate how ice was cut. Kids might even get a chance to move ice like the ice cutters of yore.