TRAIL CONDITIONS: We will need significantly more snow before we can groom the trails.
The Collins Learning Center will be closed December 25-27.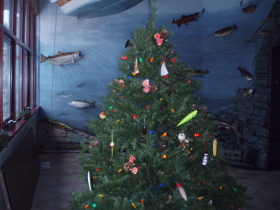 Holiday greetings from Crossroads at Big Creek. Crossroads would love to share a wonderful gift with the community—the beauty and wonder of nature combined with the physical and mental health benefits of outdoor exercise.
Most people instinctively know that they feel less stress and are just plain happier after outdoor exercise, but an growing body of cutting-edge research verifies that direct exposure to nature is essential for health—physical, emotional, and spiritual.  Outdoor exercise is a natural therapy for depression, obesity, and ADD.  Self-esteem, fitness, and even creativity are stimulated by time outdoors.
Finally, most people who exercise in nature develop a land ethic and a dedication to environmental stewardship which is  precisely what we at Crossroads hope to promote.
Crossroads has been involved in winter exercise for about  twenty years…since before the Collins Learning Center was constructed. A grant received many years ago enabled us to purchase discontinued skis and snowshoes from Mac's Sport Shop. [It WAS many years ago.]  The skis and snowshoes have been used by the physical education classes of area schools and local youth groups, and each Sunday afternoon for the past ten years, we have loaned out the skis to families, free of charge.
With good trail grooming (a  huge thank you to the  ndividuals and foundations that helped us purchase a new snowmobile last winter and to the Door County Silent Sports Alliance which this year, underwrote the purchase of a new roller) and proper recreational equipment, cross-country skiing and snowshoeing is stimulating, fun, and easy. Winter recreation  provides fantastic whole-body exercise.
And thanks to our partnership with Silent Sports, the  Friends of Crossroads will expand the "Ski-For Free" activity.  As our special holiday gift, we will loan skis and snowshoes, free of charge every afternoon from December 28 through January 2 (except New Year's Day)  for those wishing to get in touch with nature within the Crossroads preserve….      IF snow is adequate for grooming.
Then, from January 8-March 15,  snow conditions allowing (check our website www.crossroadsatbigcreek.org) on Thursdays, Saturdays and Sundays from 1:00-3:30, the Ski-For-Free program will be offered.
Thanks to Friends of Crossroads (and some generous grants), we can supply skis, boots and poles (in a range of sizes from young children to large adult) and as a result of a 4-H project, we also maintain an assortment of snowshoes.  Volunteers from Crossroads and  Silent Sports will help fit participants in the proper sizes and share safety tips.
Our trails are always free and open to the public, but we ask hikers, bikers and those using snowshoes to use designated Hiking Trails.  Sign don't seem to impress the wildlife.  Animals regularly use the trails we reserve exclusively for skiing. It  seems only  fair. We followed deer trails when we established many of our  recreational trails.
Tracks made by members of the dog family are easy to sort out.  Fox tracks, for example, are absolutely straight, with each paw print in line. A fox trot is a purposeful movement. In contrast, domestic dog tracks go every which way. Even on leash, dogs are curious, and consequently, haphazard in their explorations of the environment.
Tracks of coyote are very similar to those of a dog. But like foxes, coyotes make purposeful forward progress. However, a coyote has a wider straddle than a fox. After seeing several examples, an observant human can easily learn the difference.
Red squirrel avoid ski trails. They make their own paths which  are pretty obvious because  they lead from tree to tree.
Low-slung waddling animals such as porcupines create wide trails. An average porky trail is about ten inches wide. Funny things, porky tracks in the snow. They look like someone took a broom and swept a path from tree to tree. Porcupines usually follow their own paths and so as winter progresses, these trails get well established.
Fact is, in the more remote areas of Crossroads, we often see evidence of animals following their own tracks or using the trails created by other animals. It's far easier to follow an established trail than to break through fresh snow. I guess that's why most cross-county skiers follow  groomed trails. (Thanks Dick Weidman for doing our grooming this winter.)
May the gifts of the season and the beauty of nature fill your hearts with joy.
Crossroads at Big Creek  is a donor supported preserve welcoming learners of all ages to programs in science, history and the environment. The Collins Learning Center, located at 2041 Michigan Street in Sturgeon Bay is open 2:00-4:30, but will be closed December 25, 26 , and 27. Trails are free and open to the public.
Wednesday, December 24, 2:30  Lecture: Greeting Card Birds
Over the years, we've collected an array of holiday cards with lovely images of birds. During this lecture, you will learn about the birds (mostly local) which are depicted on these cards. This Crossroads tradition is free and open to the public. Lecture hall of the Collins Learning Center.
Sunday, December 28-31 Ski-For-Free All Day IF WE HAVE SNOW
Because schools are not in session, we will be able to offer ski loans from 9:30-3:30 during holiday break (except on New Year's Day)  Equipment must be used at Crossroads. Come to the Lower Level of the Collins Learning Center.  No charge–Happy Holidays.