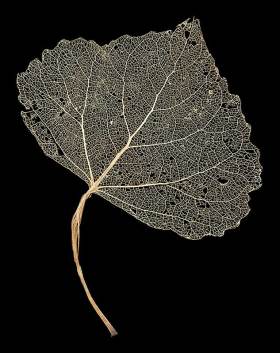 Remember when decorating for Halloween meant putting a Jack-o-lantern lit with a candle stub out on the front step?  Now decorating for Halloween is becoming an elaborate affair. But that's not why we have skeletons hanging from the trees at Crossroads. And our skeletons are not the work of Friends of Crossroads [as wonderful as our volunteers are], but rather the result of insects larvae.
Our skeletons are leaves which have been "skeletonized" by the caterpillars of certain moths. "Skeletonizer" is a term which describes an insect behavior, but the word can be a part of an insect name because skeletonizing insects, like most moths and butterflies,   specialize on a single plant species. So on birch leaves, we find the evidence of Birch Leaf Skeletonizers, oak leaves are the host for Oak Skeletonizers, apple trees attract Apple Skeletonizers. You get the idea.
The tiny caterpillars start their lives as leaf miners,  feeding as they tunnel through the juicy middle parts of leaves. As they grow larger, the caterpillars start eating all of the soft tissue of the leaves, but like children that refuse to eat the crust of their bread, the caterpillars leave all of the veins.
The remains of a leaf–the leaf skeleton–is quite lovely, looking like intricate and delicate lace.
By this time of year, skeletonized leaves have turned brown, but in a forest, by the time the
larval moths are big enough to eat the green, juicy tissue, the leaves have produced most of the food they are going to make, so skeletonizers tend not to harm forest  trees.
In orchards and vineyards, skeletonizers are  problematic, but a Crossroads, it's just fun to find the skeletonized leaves. Researchers tell us that birds, searching  for caterpillars to feed themselves or their nestlings, will look for leaf damage in order to find the caterpillars they need for their protein.  I'm thinking that  the songbirds which  feed on skeletonizing caterpillars  had a pretty good hunting this year.
To learn more about the more about the relationships between birds, caterpillars and their host plants, attend a screening of the Doug Tallamy's lecture
"The Value of Having Native Plants in Our Yards"
which was presented last January at  a conference sponsored by Wild Ones of the Fox Valley Area. The free video  program is scheduled for Saturday, November 1 at 2:00.
Another free program will be offered by the Door Peninsula Astronomical Society on Tuesday, November 4, at 7:00 as a part of their November meeting.  Dr. John Beck will present a program about the

 

Viewing Clubs of the Astronomical League

, and also, with the help of DPAS members, will share some

 Christmas Gift  Ideas for Backyard

 

Astronomers.

 

Tom Minahan  will present  "This Month in Astronomy" Visitors are encouraged to attend. Please use the Utah Street Entrance to reach the Astronomy Center.