The Historical Village at the Crossroads is sponsored by the Door County Historical Society.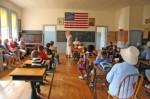 The Vignes School represents education and social life and was built around about 1898. It was located in the Town of Clay Banks where it was used for many years as a town hall. The building was moved to Crossroads in 1995. It is used by school groups and organizations for meetings and for historical programs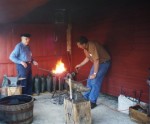 The Granary represents our agricultural heritage It was moved from the Herb Peterson farm on Lily Bay Road. Currently used for historical demonstrations and picnic area Built 1905 Lower level housed a feed grinder and fanning mill/upper level for storing oats,wheat and barley; Was used for migrant worker housing Donated by David and Buffy Andre Miller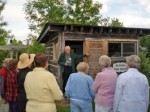 The Kohl Fish House – represents our maritime history. Moved from Jacksonport. Currently used for interpretive programs. Used by Ed Kohl for selling fish  Donated by Chuck Olson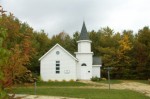 The Chapel – represents our religious heritage Replica of the Ephraim Moravian Church. Built as the 75 year anniversary project of the Door County Historical Society  Available for worship and spiritual gatherings. May be rented for small weddings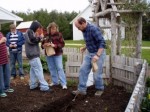 The Heritage Garden– represents our horticultural heritage. A project of the Sturgeon Bay Home and Garden Club with assistance from Master Gardeners and Middle School students. Started in 1998 in honor of June Mackey and Gertrude Olsen. All heritage plants–garden club members selected plants that their grandmothers and greatgrandmothers would have grown between 1900-1930. All produce is given to Feed My People.