Crossroads at Big Creek is a 501 (c)3 organization. To make a donation, print our donation form and mail to PO Box 608, Sturgeon Bay, WI 54235 or donate online. Please make checks payable to Crossroads at Big Creek, Inc.

The John and Helen Collins Learning Center is located at 2041 Michigan St., just east of Highway 42/57 in Sturgeon Bay, Wisconsin. Questions or to make reservations, call 920.746.5895
How Can You Help?
In the very early years of Crossroads, the name Historical and Environmental Learning Preserve was selected. The acronym HELP seemed particularly apt because in those days, we really needed the help of the community. And the community gave us help. For twenty years, we have been benefiaries of the generous people of Door County.
We still need help to pay the day to day expenses of running Crossroads and to pay down the debt. This year we also have several special initiatives.
We hope you will make an annual gift, and then, if able, give a little extra to help Crossroads grow.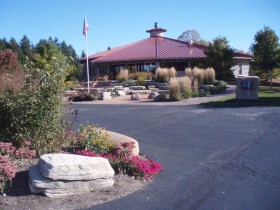 2017 Crossroads at Big Creek Educational Theme: "Location, Location, Location"
2017 Goals:
Finish the parking lot

Upgrade exterior lighting and add security camera at the Collins Learning Center

Complete the Accessible Bird Butterfly Garden at the Collins Learning Center

Reorganize the greenhouse and increase storage for cleaning supplies

Continue work at the Maki Arboretum

Continue archaeological investigations at Ida Bay and The Cove Preserves

Rehab the Heritage Garden gate and fence